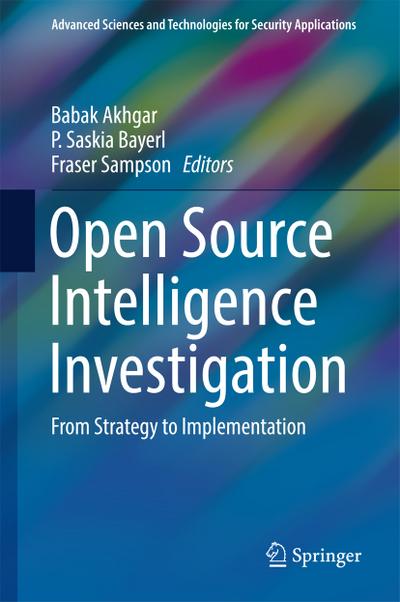 Open Source Intelligence Investigation
Advanced Sciences and Technologies for Security Applications
From Strategy to Implementation
Provides readers with an in-depth understanding to OSINT from a theoretical, practical and legal perspective
Part 1: Introduction.- OSINT as an integral part of the national security apparatus; B. Akhgar.- Open Source Intelligence and the protection of national security; A. Staniforth.- Police use of Open Source Intelligence: The longer arm of law; A. Staniforth.- OSINT as part of the strategic national security landscape; L. Marzell.- Taking stock of subjective narratives around modern OSINT; D. Wells.- Part 2: Methods, Tools and Techniques.-Acquisition and preparation of data for OSINT investigations; H. Gibson.- Analysis, interpretation and validation of open source data; H. Gibson, S. Ramwell, T. Day.- OSINT and the dark web; G. Kalpakis et al.- Fusion of OSINT and non-OSINT data; T. Day, H. Gibson, S. Ramwell.- Tools for OSINT-Based Investigations; Q. Revell, T. Smith, R. Stacey.-Design considerations for OSINT tools and processes; Addressing Fluidity and Rigor; B.L. William Wong.- Part 3: Practical Application and Cases.- A new age of Open Source Investigation: International examples; E. Higgins.- Use cases and best practices for LEAs; S. Ramwell, T. Day, H. Gibson.- OSINT in the context of cyber-security; F. Tabatabaei, D. Wells.- Combatting cybercrime and sexual exploitation of children: An open source toolkit; E. Charalambous et al.-Identifying illegal cartel activities using open source intelligence in Action; P. Vadasz et al.- Part 4: Legal Considerations .- Legal considerations for using open source intelligence in the context of cybercrime and cyberterrorism; A. Lyle.- Following the breadcrumbs: Using Open Source Intelligence as evidence in criminal proceedings; F. Sampson.
One of the most important aspects for a successful police operation is the ability for the police to obtain timely, reliable and actionable intelligence related to the investigation or incident at hand. Open Source Intelligence (OSINT) provides an invaluable avenue to access and collect such information in addition to traditional investigative techniques and information sources. This book offers an authoritative and accessible guide on how to conduct Open Source Intelligence investigations from data collection to analysis to the design and vetting of OSINT tools. In its pages the reader will find a comprehensive view into the newest methods for OSINT analytics and visualizations in combination with real-life case studies to showcase the application as well as the challenges of OSINT investigations across domains. Examples of OSINT range from information posted on social media as one of the most openly available means of accessing and gathering Open Source Intelligence to location data, OSINT obtained from the darkweb to combinations of OSINT with real-time analytical capabilities and closed sources. In addition it provides guidance on legal and ethical considerations making it relevant reading for practitioners as well as academics and students with a view to obtain thorough, first-hand knowledge from serving experts in the field.
Editiert von: Babak Akhgar, P. Saskia Bayerl, Fraser Sampson
Babak Akhgar is Professor of Informatics and Director of CENTRIC (Centre of excellence in terrorism, resilience, intelligence and organised crime research). Babak has more than 100 referred publications on security, OSINT, counter terrorism and cybercrime. He is principal investigator and technical lead in several multimillion Euros international security initiatives. He has co-edited two books on intelligence management - Intelligence Management: Knowledge Driven Frameworks for Combating Terrorism and Organised Crime, and Strategic Intelligence Management: National Security Imperatives and Information and Communications Technologies. Prof Akhgar latest books are titled Cyber Crime and Cyber Terrorism, An investigators handbook and Application of Big Data for National Security are published by Elsevier. In addition to his scholarly activities; Prof Akhgar is trustee of Police National Legal Database (PNLD), board member of European Organisation for Security and member of SAS UK academic board.
Petra Saskia Bayerl is Associate Professor of Technology and Organizational Behaviour at Rotterdam School of Management, Erasmus University, Netherlands and Program Director of Technology at the Centre of Excellence in Public Safety Management (CESAM). She is also Visiting Research Fellow at the Centre of Excellence for Terrorism, Resilience, Intelligence and Organised Crime Research (CENTRIC) at Sheffield Hallam University, U.K. She holds master degrees in psychology, linguistics and organizational dynamics from universities in Germany and the USA and a Ph.D. from Technical University in Delft, Netherlands. Her current research interests lay at the intersection of human-computer interaction, organizational communication, and organizational change with a special focus on the impact of technological innovations and public safety.

Fraser Sampson is Chief Executive and Solicitor of the Office of Police and Crime Commissioner West Yorkshire Police. Before taking up the role he was Chief Executive and Solicitor of the West Yorkshire Police Authority and in 2008 he was the first Executive Director of the Civil Nuclear Police Authority created by the Energy Act 2004. While in commercial legal practice Fraser represented police officers in a number of high profile cases arising out of employment and disciplinary matters and acted for Humberside Police officers in the Bichard Inquiry. Fraser has written and edited a number of leading books on police law including the best selling Blackstone's Police Manuals and the Routledge Companion to UK Counter-Terrorism (2012). He is on the editorial board of the Oxford Journal Policing: a journal of policy and practice. He is an advisor to the board at the Centre for Criminal Justice Studies at the University of Leeds and is an associate of the Scottish Institute for Policing Research. Fraser is a CEDR trained mediator and a Weinstein Fellow of the JAMS Foundation for Mediation in California.
Zu diesem Artikel ist noch keine Rezension vorhanden.
Helfen sie anderen Besuchern und verfassen Sie selbst eine Rezension.
Autor: Babak Akhgar
ISBN-13 :: 9783319476704
ISBN: 331947670X
Erscheinungsjahr: 01.01.2017
Verlag: Springer-Verlag GmbH
Gewicht: 670g
Seiten: 304
Sprache: Englisch
Sonstiges: Buch, 244x159x22 mm, 28 farbige Abbildungen, Bibliographie