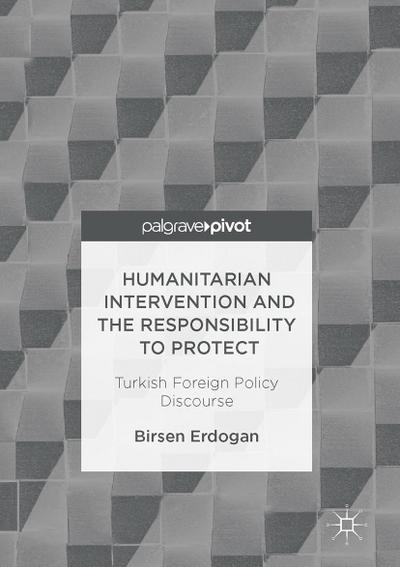 Humanitarian Intervention and the Responsibility to Protect
Turkish Foreign Policy Discourse
Offers in-depth analysis of the Turkish foreign policy discourses about interventions abroad.Provides a critical look into the discourses of humanitarian interventions and R2P
Details inspiring and thought-provoking research about identity constructions and battles of discourses
Chapter 1: Introduction.- Chapter 2: What is Discourse?.- Chapter 3: Humanitarian Intervention and Responsibility to Protect.- Chapter 4: Turkish Foreign Policy: A Literature and Discourse Analysis.- Chapter 5: Libya and Discourse Analysis.- Chapter 6: Syria and Discourse Analysis.- Chapter 7: Conclusion.
This book offers a discursive analysis of the Turkish Foreign Policy on Humanitarian Interventions (HI) and the doctrine of the Responsibility to Protect (R2P). Across the chapters the author addresses important questions, such as: what is the position of the HI and R2P in the Turkish foreign policy discourse? Is there any variation between cases when it comes to the use of these concepts? How do these discourses shape/change/transform or sustain the Turkish identity? Despite the tendency in some countries to incorporate HI and R2P principles into their foreign policy (UK, Netherlands, Canada, Japan), and the fact that some countries are lobbying to make these principles a part of international or UN law, in the developing world these policies and concepts have not gained widespread recognition or approval. Countries like China, Brazil and India approach these concepts with suspicion or with reservation. The same tendency can be observed in the MENA region and in some parts of Africa and Asia. In this book, the author looks at the reasons behind these differences in approach and explores how the concept of identity affects Turkish foreign policy specifically. This study is invaluable for researchers and students of R2P and HI and foreign policy discourse in general.
Autor: Birsen Erdogan
Birsen Erdogan is a lecturer of International Relations at Maastricht University, the Netherlands. Birsen previously worked at the Netherlands Institute of Human Rights as a researcher and project co-coordinator. Her main interests are critical theories in International Relations, Critical Security Studies, Turkish and Middle Eastern politics, discourse analysis and state denial.
Zu diesem Artikel ist noch keine Rezension vorhanden.
Helfen sie anderen Besuchern und verfassen Sie selbst eine Rezension.
Autor: Birsen Erdogan
ISBN-13 :: 9783319476827
ISBN: 3319476823
Erscheinungsjahr: 01.01.2017
Verlag: Springer-Verlag GmbH
Gewicht: 395g
Seiten: 181
Sprache: Englisch
Sonstiges: Buch, 216x153x17 mm, 20 schwarz-weiße Abbildungen, Bibliographie
Mehr von

Weitere Artikel von