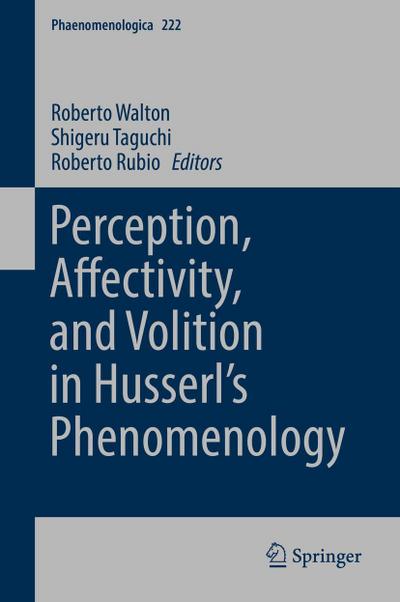 Perception, Affectivity, and Volition in Husserl's Phenomenology
222, Phaenomenologica
Offers new perspectives on the phenomenology of reason
Percept, Feeling, Pragma: Some Static and Genetic Connections, Luis Román Rabanaque.- Horizonality and Legitimation in Perception, Affectivity, and Volition, Roberto Walton.- Husserl's Holistic Realism about Perception, Michael K. Shim.- How Husserl Can Reformulate the Discussion about the Conceptual Content of Perception, Pol Vandevelde.- "The Most Beautiful Pearls": Speculative Thoughts on a Phenomenology of Attention (with Husserl and Goethe), Sebastian Luft.- Toward an A Priori Gefühlsmoral: Husserl's Criticism of Hume s Theory of Moral Sentiments, Mariano Crespo.- Affectivity and Individuation in Husserl and Margaret Mahler, Kristina Montagová.- The Corporeal Phantasy and the Dynamics of Individuation, Jagna Brudzinska.- Phenomenology of Pain and its Implications for Health Care, Saulius Geniusas.- Limits and Reach of the Act of Willing: Thoughts from the Point of View of Psychoanalysis and Husserl's phenomenology, Julio César Vargas Bejarano.- Husserl's Concept of Urstiftung: From Passivity to History, Luis Niel.- Annihilation of the World? Husserl's Rehabilitation of Reality, Shigeru Taguchi.- Phenomenology and the Other: Phenomenology facing the 21st Century, Javier San Martín.
This collection of essays by scholars from Europe, Asia, North America, and Latin America offers new perspectives of the phenomenological investigation of experiential life on the basis of Husserl's phenomenology. Not only well-known works of Husserl are interpreted from new angles, but also the latest volumes of the Husserliana are closely examined. In a variety of ways, the contributors explore the emergence of reason in experience that is disclosed in the very regions that are traditionally considered to be "irrational" or "pre-rational." The leading idea of such explorations is Husserl's view that perception, affectivity, and volition are regarded as the three aspects of reason. Without affectivity, which is supposedly irrational, no rationality can be established in the spheres of representation and volition, whereas volitional and representational acts consistently structure the process of affective experience. In such a framework, it is also shown that theoretical and practical reason are inseparably intertwined. Thus, the papers collected here can be regarded as a collaborative phenomenological investigation into the entanglement and mutual dependency of the supposedly "rational" and the "irrational" as well as that of the "practical" and the "theoretical."
Editiert von: Roberto Walton, Shigeru Taguchi, Roberto Rubio
Roberto Walton (Ph.D., Universidad de Buenos Aires) is Professor at the University of Buenos Aires, and member of the National Council for Scientific Research of Argentina. He is author of Husserl. Mundo, conciencia y temporalidad (Buenos Aires, 1993), El fenómeno y sus configuraciones (Buenos Aires,1993), and Intencionalidad y horizonticidad (Cali, 2015). He is a member of the Editorial Board of Husserl Studies. Shigeru Taguchi (Ph.D., Bergische Universität Wuppertal) is Associate Professor at Hokkaido University, Japan. He is author of Das Problem des 'Ur-Ich' bei Edmund Husserl. Die Frage nach der selbstverständlichen 'Nähe' des Selbst (Dordrecht, 2006). His research topics are Husserlian phenomenology and modern Japanese philosophy. He is a member of the Editorial Board of Contributions to Phenomenology. Roberto Rubio (Ph.D., Albert-Ludwigs-Universität Freiburg) is Associate Professor at the Universidad Alberto Hurtado, Chile. He is author of Zur Möglichkeit einer Philosophie des Verstehens. Das produktive Scheitern Heideggers (Tübingen, 2006). His areas of research are Heidegger's philosophy and phenomenological aesthetics. He is currently working on a book on Heidegger's philosophy of the image.
Zu diesem Artikel ist noch keine Rezension vorhanden.
Helfen sie anderen Besuchern und verfassen Sie selbst eine Rezension.
Autor: Roberto Walton
ISBN-13 :: 9783319553382
ISBN: 3319553380
Erscheinungsjahr: 05.06.2017
Verlag: Springer-Verlag GmbH
Gewicht: 496g
Seiten: 202
Sprache: Englisch
Sonstiges: Buch, 244x161x20 mm, Bibliographie
Mehr von

Weitere Artikel von