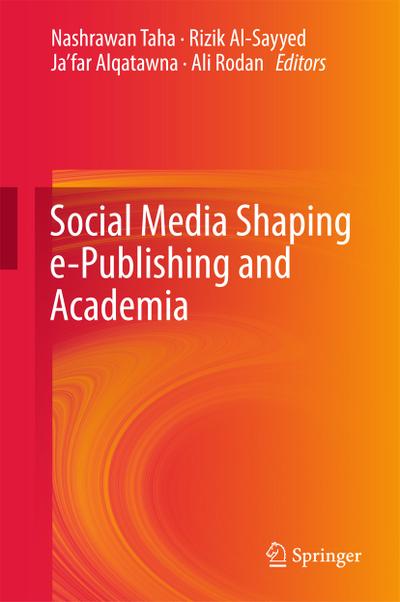 Social Media Shaping e-Publishing and Academia
99
Reaching your community via social media: Academic libraries and librarians using Facebook and Twitter for outreach.- Social networks' impact on information consumption and usage: e-Marefa case.- Analysing how the prosumption of information in social media shapes Wikipedia.- The role of social networks in increasing the activity of e-learning.- Using IPython for teaching Web scraping.- The role of social network sites in connecting students with learning and academic activities: a case study.- An investigation of social media and e-publishing usage among Jordanian university students.- A defeasible description logic for representing bibliographic data.- Exploiting social media and tagging for social book search: simple query methods for retrieval optimization.- Online social networks' security: threats, attacks and future directions.
This book presents the current state of the art in the field of e-publishing and social media, particularly in the Arabic context. The book discusses trends and challenges in the field of e-publishing, along with their implications for academic publishing, information services, e-learning and other areas where electronic publishing is essential. In particular, it addresses (1) Applications of Social Media in Libraries and Information Centers, (2) Use of Social Media and E-publishing in E-learning (3) Information Retrieval in Social Media, and (4) Information Security in Social Media.

Editiert von: Nashrawan Taha, Rizik Al-Sayyed, Ja'far Alqatawna, Ali Rodan
Dr. Taha is an Assistant Professor of Information Science at the Library and Information Science department, University of Jordan. She was head of the University of Jordan's Library and Information Science department from 2014 to 2016 and Deputy Director of its University Library from 2013 to 2016.
Zu diesem Artikel ist noch keine Rezension vorhanden.
Helfen sie anderen Besuchern und verfassen Sie selbst eine Rezension.
Autor: Nashrawan Taha
ISBN-13 :: 9783319553535
ISBN: 3319553534
Erscheinungsjahr: 20.05.2017
Verlag: Springer-Verlag GmbH
Gewicht: 366g
Seiten: 132
Sprache: Englisch
Sonstiges: Buch, 241x161x15 mm, 15 schwarz-weiße und 30 farbige Abbildungen, Bibliographie
Mehr von

Weitere Artikel von