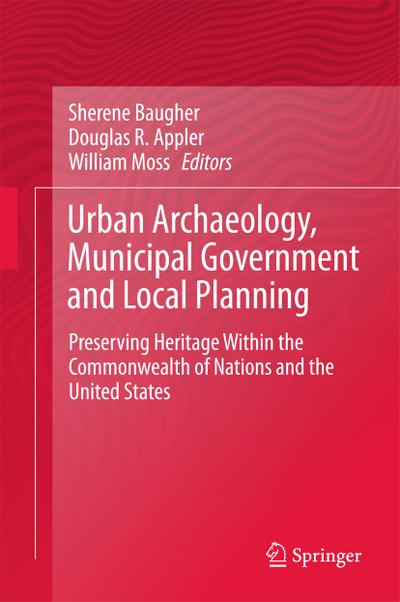 Urban Archaeology, Municipal Government and Local Planning
Preserving Heritage within the Commonwealth of Nations and the United States
99
1. Thinking Globally, Acting Locally: Exploring the Relationships Between Community, Archaeological Heritage and Local Government.- Part I: The Challenges and Accomplishments of Local Government Archaeology Programs in the Commonwealth of Nations.- 2. Planning Archaeology in World Cities: Looking at London.- 3. Preservation, Participation, and the Pursuit of Knowledge: Strategic Policy and Archaeological Practice within the City of York 1989 to 2015.- 4. Crowdsourcing the Story of Bristol.- 5. Archaeological Resource Management in Toronto: Planning, Preservation and Interpretation.- 6. Under the Old Stones of Kingston, Ontario: The City of Kingston Archaeological Master Planning Process (2005-2011).- 7. Québec City's Archaeological Program and Provincial Cultural Heritage Legislation.- 8. Archaeology Down Under: Management and Outcomes in the First State in Australia.- 9. From Alliance to Dissonance: Two Centuries of Local Archaeology and Conservation in Indian Cities. The Case of Lucknow, India.- Part II: The Challenges and Accomplishments of Local Government Archaeology Programs in the United States.- 10. Towards a Theory of Municipal Archaeology: Why Local Government Should Become Public Archaeology's New Best Friend.- 11. We Dig Alexandria: A Reflection on More Than Fifty Years of Community Archaeology.- 12. Reflections on the New York City Archaeology Program (1980-2016).- 13. Digging the Hub: The Evolution of the City of Boston Archaeology Program.- 14. Phoenix Rising: The Development of a Municipal Archaeology Program in Arizona, USA.- 15. Municipal Archaeology Policies as a Vector in Public Outreach Programs: Digging Up Dirt for the Masses in St. Augustine, Florida.- 16. Like No Other Place: Albuquerque's Archaeological Odyssey.
Improving the relationship between archaeology and local government represents one of the next great challenges facing archaeology -specifically archaeology done in urban settings. Not only does local government have access to powerful legal tools and policy mechanisms that can offer protection for privately owned archaeological sites, but because local government exists at the grassroots level, it is also often closer to people who have deep knowledge about the community itself, about its values, and about the local meaning of the sites most in need of protection. This partnership between archaeology and local government can also provide visibility and public programing for heritage sites.
This book will explore the experiences, both positive and negative, of small and large cities globally. We have examined programs in the Commonwealth of Nations (formerly known as the British Commonwealth) and in the United States. These countries share similar perspectives on preservation and heritage, although the approaches these cities have taken to address municipal archaeology reveals considerable diversity. The case studies highlight how these innovative partnerships have developed, and explain how they function within local government. Engaging with the political sphere to advocate for and conduct archaeology requires creativity, flexibility, and the ability to develop collaborative partnerships. How these archaeological partnerships benefit the community is a vital part of the equation. Heritage and tourist benefits are discussed. Economic challenges during downturns in the economy are analyzed. The book also examines public outreach programs and the grassroots efforts to protect and preserve a community's archaeological heritage.

Editiert von: Sherene Baugher, Douglas R. Appler, William Moss
¿Sherene Baugher, Ph.D., was the first City Archaeologist for New York City (1980-1990). Since 1991, she has been a professor at Cornell University affiliated with Cornell's Departments of Landscape Architecture, City and Regional Planning, and the Cornell Institute of Archaeology and Material Studies. Her research on class, ethnicity, gender, and inequality focuses on 18th and 19th century sites with a special focus on New York sites. She has co-edited two other books for Springer, Archaeology and Preservation of Gendered Landscapes (2010) and Past Meets Present: Archaeologists Partnering with Museum Curators, Teachers, and Community Groups (2007).
Zu diesem Artikel ist noch keine Rezension vorhanden.
Helfen sie anderen Besuchern und verfassen Sie selbst eine Rezension.
Autor: Sherene Baugher
ISBN-13 :: 9783319554884
ISBN: 3319554883
Erscheinungsjahr: 23.08.2017
Verlag: Springer-Verlag GmbH
Gewicht: 688g
Seiten: 345
Sprache: Englisch
Sonstiges: Buch, 241x161x27 mm, 75 schwarz-weiße und 20 farbige Abbildungen, Bibliographie
Mehr von

Weitere Artikel von