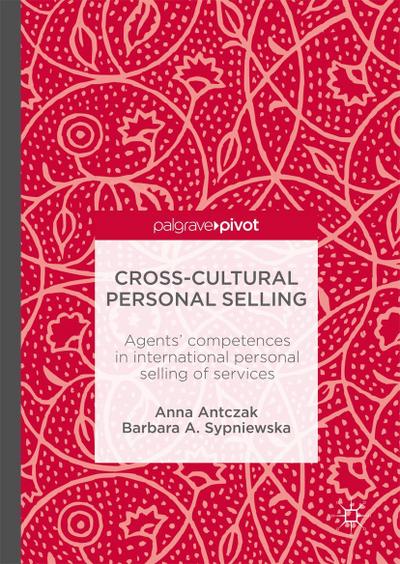 Cross-Cultural Personal Selling
Agents' competences in international personal selling of services
99
1. The Notion of Competence.- 2. Personal Selling in the Service Sector as a Marketing Promotional Tool.- 3. Competences in International Personal Selling.- 4. Personal Sellers' Competences - Research Remarks.- 5. The Role of Agents' Characteristics and Competences in Personal Selling in the Higher Education Sector - Research Remarks.- 6. Conclusions.
Providing in-depth analysis, this book enables readers to understand the theoretical aspects of personal selling and explores the difficulties of selling services which are sensitive to cultural, age and gender differences, and to customers originating from diverse cultural zones. Agents and personal sellers must be aware of these differences and be familiar with the expectations of customers. Cross-cultural Personal Selling provides extensive empirical research results with special emphasis on competences, skills and qualifications of personal sellers which are necessary for successful, effective and efficient promotion campaigns aimed at customers from different cultures. Academics of international marketing and promotion will find this study extremely useful, as well as practitioners looking to expand their knowledge on personal selling.

Autor: Anna Antczak, Barbara A. Sypniewska
Anna Antczak-Barzan is Vice-Dean of the Faculty of Business and International Relations at Vistula University in Warsaw, Poland. She is the author of numerous publications in the field of marketing, public relations, and international relations. Barbara A. Sypniewska is Assistant Professor at the Faculty of Management and Finance, University of Finance and Management in Warsaw, Poland. She is an expert in the field of direct marketing and human relations.
Zu diesem Artikel ist noch keine Rezension vorhanden.
Helfen sie anderen Besuchern und verfassen Sie selbst eine Rezension.
Autor: Anna Antczak
ISBN-13 :: 9783319555768
ISBN: 3319555766
Erscheinungsjahr: 01.08.2017
Verlag: Springer-Verlag GmbH
Gewicht: 373g
Seiten: 160
Sprache: Englisch
Sonstiges: Buch, 218x151x17 mm, 49 schwarz-weiße Abbildungen, Bibliographie