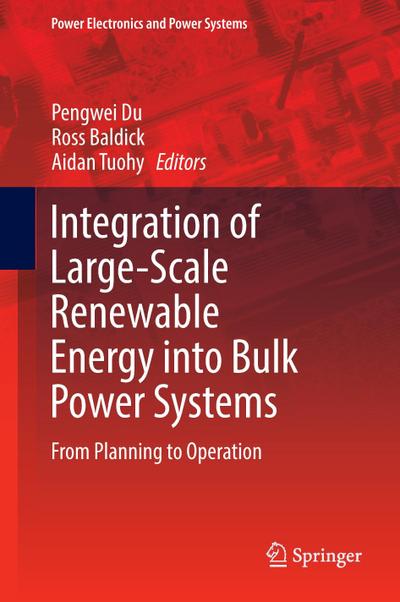 Integration of Large Scale Renewable Energy into Bulk Power Systems
Power Electronics and Power Systems
From Planning to Operation
99
Introduction.- Grid Dynamics and Renewable Integration.- Direct Load Control and Demand Response.- Wind Power.- Solar Power.- Hydropower.- Waste Energy.- Hybrid Vehicles and EVs.- The Role of Storage.- Case Studies.- Policy and Regulatory Considerations.- Appendices
This book outlines the challenges that increasing amounts of renewable and distributed energy represent when integrated into established electricity grid infrastructures, offering a range of potential solutions that will support engineers, grid operators, system planners, utilities, and policymakers alike in their efforts to realize the vision of moving toward greener, more secure energy portfolios. Covering all major renewable sources, from wind and solar, to waste energy and hydropower, the authors highlight case studies of successful integration scenarios to demonstrate pathways toward overcoming the complexities created by variable and distributed generation.

Editiert von: Pengwei Du, Ross Baldick, Aidan Tuohy
Dr. Pengwei Du is lead engineer - renewable integration with the Electric Reliability Council of Texas (ERCOT). Prior to this, he was a senior research engineer with Pacific Northwest National Laboratory (PNNL). Dr. Du has over 10-year extensive experiences in simulation, modeling, protection and control, renewable energy integration, demand response and market design. Dr. Du was also an adjunct professor at Washington State University (Tri-Cities) in 2012, and has been adjunct faculty at University of Texas (Austin) since 2016. Dr. Du is the recipient of IEEE PES Power System Dynamic Performance Committee Prize Paper Award in 2016. Dr. Du is associated editor of International Transactions on Electrical Energy Systems and IET Generation, Transmission & Distribution, and vice-chair for Bulk Power System Planning Subcommittee, IEEE Power & Energy Society since 2016.
Zu diesem Artikel ist noch keine Rezension vorhanden.
Helfen sie anderen Besuchern und verfassen Sie selbst eine Rezension.
Autor: Pengwei Du
ISBN-13 :: 9783319555799
ISBN: 3319555790
Erscheinungsjahr: 13.06.2017
Verlag: Springer-Verlag GmbH
Gewicht: 680g
Seiten: 337
Sprache: Englisch
Sonstiges: Buch, 244x164x24 mm, 100 schwarz-weiße Abbildungen, Bibliographie
Mehr von

Weitere Artikel von