Autor:
Antonio Colmenar-Santos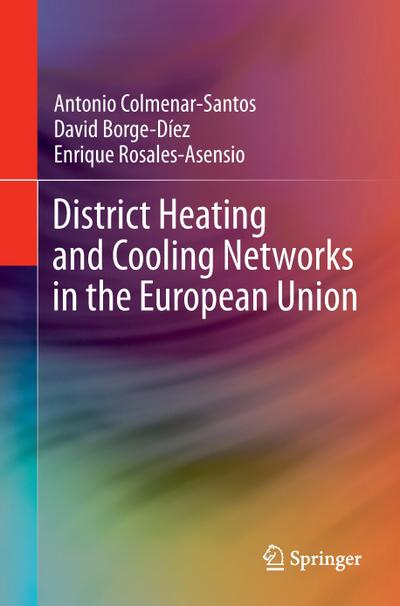 District Heating and Cooling Networks in the European Union
SpringerBriefs in Energy
Is the only book to cover cogeneration and district heating across the European Union (EU)
1.Introduction.- 2.District heating and cogeneration in the eu-28: current situation, potential and proposed energy strategy for its generalisation.- 3.Cogeneration and district heating networks: measures to remove institutional and financial barriers that restrict their joint use in the eu-28.- 4.Reconciliation of social discount rates and private finance initiative: application to district heating networks in the eu-28.- 5.Evaluation of the cost of using power plant reject heat in low-temperature district heating and cooling networks.- 6.Conclusions.- 7.References.
This book evaluates the potential of the combined use of district heating networks and cogeneration in the European Union (EU). It also proposes measures to remove barriers hindering their widespread implementation, formulates policies for their implementation, and evaluates their economic, energy, and environmental consequences.
The book presents a preliminary assessment of the likely cost and the impact of widespread adoption of district heating networks and cogeneration carried out in three cities that represent the variety of climatic conditions in the EU. Based on this assessment, it is estimated that by undertaking the maximum economically feasible implementation across the EU, fuel savings of EUR95M/year would be achieved, representing energy savings of 6,400 petajoules (PJ), which is around 15% of the total final energy consumption in the EU in 2013 (46,214.5 PJ). Using simple and quick calculations and not specific software, the method used allows the evaluation of the potential benefits of retrofitting existing power plants into cogeneration plants and connecting them to nearby heating networks.
In light of increasing energy costs and environmental concerns, the book is of interest to heating engineers, city planners, and policy-makers around the globe.
Autor: Antonio Colmenar-Santos, David Borge-Díez, Enrique Rosales-Asensio
Dr. Colmenar-Santos has been a senior lecturer in the field of Electrical Engineering at the Department of Electrical, Electronic and Control Engineering at the National Distance Education University (UNED) since June 2014. Dr. Colmenar-Santos was an adjunct lecturer at both the Department of Electronic Technology at the University of Alcalá and at the Department of Electric, Electronic and Control Engineering at UNED. He has also worked as a consultant for the INTECNA project (Nicaragua). He has been part of the Spanish section of the International Solar Energy Society (ISES) and of the Association for the Advancement of Computing in Education (AACE), working in a number of projects related to renewable energies and multimedia systems applied to teaching. He was the coordinator of both the virtualisation and telematic Services at ETSII-UNED, and deputy head teacher and the head of the Department of Electrical, Electronics and Control Engineering at UNED. He is the author of more than 50 papers published in respected journals (goo.gl/YqvYLk) and has participated in more than 100 national and international conferences.
Dr David Borge-Diez has a Ph.D. in Industrial Engineering and an M.Sc. in Industrial Engineering, both from the School of Industrial Engineering at the National Distance Education University (UNED). He is currently a lecturer and researcher at the Department of Electrical, Systems and Control Engineering at the University of León, Spain. He has been involved in many national and international research projects investigating energy efficiency and renewable energies. He has also worked in Spanish and international engineering companies in the field of energy efficiency and renewable energy for over eight years. He has authored more than 25 publications in international peer-reviewed research journals and participated in numerous international conferences.

Dr. Rosales-Asensio (Ph.D.) is an industrial engineer with postgraduate degrees in electrical engineering, business administration, and quality, health, safety and environment management systems. Currently, he is a senior researcher at the University of La Laguna, where he is involved in water desalination project in which the resulting surplus electricity and water would be sold. He has also worked as a plant engineer for a company that focuses on the design, development and manufacture of waste-heat-recovery technology for large reciprocating engines; and as a project manager in a world-leading research centre.
Zu diesem Artikel ist noch keine Rezension vorhanden.
Helfen sie anderen Besuchern und verfassen Sie selbst eine Rezension.
Autor: Antonio Colmenar-Santos
ISBN-13 :: 9783319579511
ISBN: 3319579517
Erscheinungsjahr: 01.08.2017
Verlag: Springer-Verlag GmbH
Gewicht: 289g
Seiten: 149
Sprache: Englisch
Sonstiges: Taschenbuch, 238x154x12 mm, Bibliographie
Mehr von

Weitere Artikel von