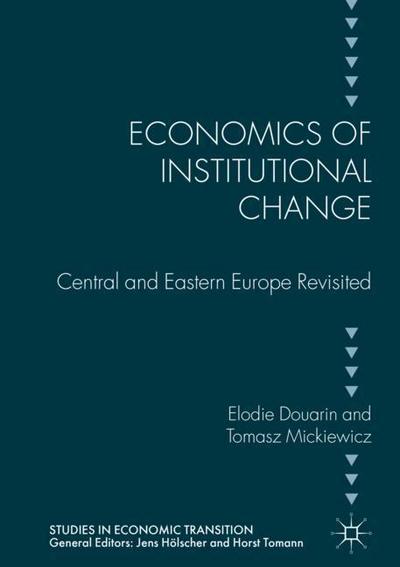 Economics of Institutional Change
Studies in Economic Transition
Central and Eastern Europe Revisited
Presents a completely updated evaluation of the process of institutional change
Introduction.- .Chapter 1: Transition away from the Command Economy in Central and Eastern Europe and the Former Soviet Union - An Overview.- .Chapter 2: The Soviet System.- .Chapter 3: Institutions; Institutional Reform.- .Chapter 4: Political Economy of Reforms.- .Chapter 5: Stabilisation.- .Chapter 6: Outcomes of Reforms. Growth.- .Chapter 7: Privatisation: Speed, Efficiency, and Effects on Wealth Distribution.- .Chapter 8: Unemployment and Labour Market Policies.- .Chapter 9: Financial Liberalisation.- .Chapter 10: Public Finance.- .Chapter 11: Transition and Institutional Change.- .Chapter 12: Back to "Normality"?
This book, a third edition, has been significantly expanded and updated. It revisits the process of institutional change: its characteristics, determinants and implications for economic performance. New chapters address the significance of Post-Communist transition, the differences and importance of initial conditions in institutional building, and, social norms, values, and happiness. Other chapters have been expanded to include, for example, a focus on the Washington consensus, commentary on the 2008 financial crisis, state capacity and corruption, and new findings on redistribution and inequality.
With specific focus on Central Europe, Eastern Europe and Central Asia, this revised edition examines the process of development, and its interdependence with institutions.
Autor: Tomasz Mickiewicz, Elodie Douarin
Professor Tomasz Mickiewicz is a professor of Economics, and Head of the Economics, Finance and Entrepreneurship Group at Aston University, UK. He teaches on emerging and transitional economics, and his research interests include comparative entrepreneurship, social entrepreneurship, high growth aspiration entrepreneurship, informal economy, tax avoidance; foreign direct investment, and the applications of institutional theory to both entrepreneurship and international business. He has has published numerous journal papers and book chapters, and is currently Associate Editor of the journal Regional Studies. Dr Elodie Douarin is Lecturer in Economics and is the Admissions Tutor for Economics and Business programmes at the School of Slavonic and East European Studies (SSEES), University College London, UK. She is a Development Economist with broad research interests and is currently working on the causes and consequences of conflict, aspects of political participation, migration and subjective wellbeing. She teaches on emerging markets, microeconomics, migration and health, development economics, and public choice.
Zu diesem Artikel ist noch keine Rezension vorhanden.
Helfen sie anderen Besuchern und verfassen Sie selbst eine Rezension.
Autor: Tomasz Mickiewicz
ISBN-13 :: 9783319579573
ISBN: 3319579576
Erscheinungsjahr: 01.11.2017
Verlag: Springer-Verlag GmbH
Gewicht: 589g
Seiten: 319
Sprache: Englisch
Auflage 17003, 3rd edition
Sonstiges: Buch, 216x151x27 mm, 51 schwarz-weiße Abbildungen, Bibliographie