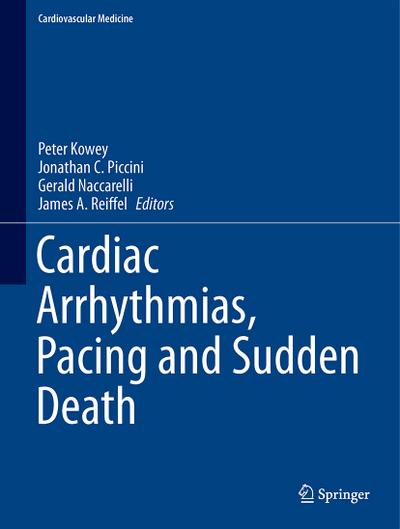 Cardiac Arrhythmias, Pacing and Sudden Death
99
Chapter 1
Basic Electrophysiology

Victoria M. Robinson and Stanley Nattel

Chapter 2

Pathophysiology of Atrial Fibrillation

Alexander Burashnikov and Charles Antzelevitch

Chapter 3

Genomics of cardiac arrhythmias

Dan M. Roden and M. Benjamin Shoemaker

Chapter 4

Channelopathies: Clinical Presentation and Genetics

J. Martijn Bos and Michael J. Ackerman

Chapter 5

Extended ECG Monitoring

Christian Steinberg, Matthew T. Bennett and Andrew D. Krahn

Chapter 6

Sudden Cardiac Death: Methods of Risk Prediction

John Alvin Gayee Kpaeyeh, Dean M. Abtahi and Michael R. Gold

Chapter 7

Electrophysiologic Testing and Cardiac Mapping

Jackson J. Liang and David J. Callans

Chapter 8

Antiarrhythmic Drug Management of Atrial Fibrillation

A. John Camm

Chapter 9

Anticoagulants for atrial fibrillation

Keitaro Senoo, Gregory Y H Lip

Chapter 10

Cardiac Pacemakers

Jose F. Huizar and Kenneth A. Ellenbogen

Chapter 11

Implantable and Wearable Defibrillator Therapy

Samir Saba and N. A. Mark Estes

Chapter 12

Atrial Fibrillation Ablation

Abhishek J. Deshmukh and Douglas L. Packer

Chapter 13

Ventricular Tachycardia Ablation

Samuel H. Baldinger, Usha B. Tedrow and William G. Stevenson

Chapter 14

Supraventricular Tachycardia

Ramanan Kumareswaran nnd Paul Dorian

Chapter 15

Clinical Management of Atrial Fibrillation

E. Kevin Heist, Moussa Mansour and Jeremy N. Ruskin

Chapter 16

Ventricular Tachycardia and Fibrillation in Patients with Structural Heart Disease

Raul Mitrani and Robert J Myerburg

Chapter 17

Ventricular Arrhythmias in the Absence of Structural Heart Disease

Juan Acosta and Josep Brugada

Chapter 18

Bradyarrhythmias / Heart Blocks

L. Brent Mitchell

Chapter 19

Syncope and Risk of Sudden Death
Wayne O Adkisson, Balaji Krishnan and David G Benditt

Chapter 20

Management of Ventricular Arrhtyhmias in Nonischemic Cardiomyopathic Syndromes
Abhishek J. Deshmukh, and Bernard J. Gersh

Chapter 21

Arrhythmias in Congenital Heart Disease

Edward P Walsh

Chapter 22

Arrhythmias in Special Populations
Paul J. Wang and Winston B. Joe
This book provides up-to-date, user-friendly and comprehensive guidance on the evaluation, diagnosis, and medical and surgical treatment of cardiac arrhythmias. This ensures that that this title aids every trainee and practicising cardiologist, cardiac electrophysiologist, cardiac surgeon, vascular surgeon, diabetologist, cardiac radiologist and any physician who manages cardiac patients.
Cardiovascular Medicine: Cardiac Arrhythmias, Pacing and Sudden Death covers every aspect of cardiac arrhythmias, from cardiac signs and symptoms through imaging and the genetic basis for disease to surgery, interventions, treatment and preventive cardiology. This coverage is presented with consistent chapter organization, clear design, and engaging text that includes user-friendly features such as tables, lists and treatment boxes.

Editiert von: Peter Kowey, Jonathan C. Piccini, Gerald Naccarelli, James A. Reiffel
Gerald V Naccarelli, MD, is the Bernard Trabin Chair in Cardiology, Professor of Medicine, and Chief of the Division of Cardiology at the Pennsylvania State University College of Medicine/Milton S Hershey Medical Center. He has chaired and been a member of numerous committees for the American Heart Association (AHA), the American College of Cardiology (ACC), and the North American Society of Pacing and Electrophysiology/Heart Rhythm Society (NASPE/HRS). He is the author of three books and the author/co-author of over 400 papers, chapters, articles, and abstracts. Professor Naccarelli received a post-doctoral fellowship in cardiac electrophysiology from the Indiana University School of Medicine and received a fellowship in cardiology from, and was Chief Resident in Medicine at, the Penn State University College of Medicine. He received internal medicine residency training at the North Carolina Baptist Hospital/Bowman Gray School of Medicine, and was awarded his MD by the Pennsylvania State University College of Medicine.
Zu diesem Artikel ist noch keine Rezension vorhanden.
Helfen sie anderen Besuchern und verfassen Sie selbst eine Rezension.
Autor: Peter Kowey
ISBN-13 :: 9783319579986
ISBN: 3319579983
Erscheinungsjahr: 01.09.2017
Verlag: Springer-Verlag GmbH
Gewicht: 953g
Seiten: 306
Sprache: Englisch
Sonstiges: Buch, 289x215x22 mm, 70 schwarz-weiße und 80 farbige Abbildungen, Bibliographie