Autor:
Janet McIntyre-Mills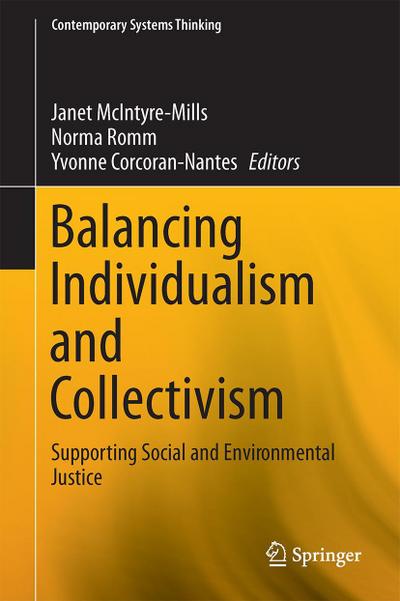 Balancing Individualism and Collectivism
Contemporary Systems Thinking
Social and Environmental Justice
Analyses human perception of local climate challenges and experiences, and the ecological footprint humans have on the Earth
Prologue McIntyre-Mills, J. Balancing individualism and collectivism: towards non-anthropocentric stewardship rights and responsibilities.- Preface Treviño-Cisneros, R . Ethics and the Anthropocene.- 1. Romm, N. Foregrounding critical systemic and indigenous ways of collective knowing towards (re)directing the Anthropocene.- 2. Mendelsohn, J. Sveen, T. Risks, Crisis and the European Law: Implications and Parallels for Addressing Financial, Energy Security and Environmental Catastrophe..- 3. McIntyre-Mills, J with Wirawan, R and dmembers of the Indonesian Research consortium. Low carbon challenge to live virtuously and well: Participatory Design and education on mitigation, adaptation, governance and accountability.- 4. McIntyre-Mills, J. with Wirawan, RGoverning the Anthropocene through balancing individualism and collectivism as a way to manage our ecological footprint.- 5. McKay, V.I. Introducing a parallel curriculum to enhance social and environmental awareness in South African school workbooks..- 6. Outhred, R. Decision making towards a fully realized equity agenda in sustainable development.- 7. Ariyadasa, E. Educating and empowering children for governing the Anthropocene: a case study of children's homes in Sri Lanka.- 8. Corcoran-Nantes, Y. and Roy, S. Gender, climate change and sustainable development in Bangladesh.- 9. Goff, S. Statistical variation versus National cohesion - contesting truth tests in competing socio-ecological realities.- 10. Miller, K. Balancing individualism and collectivism in an Australian Aboriginal context..- 11. Quan-Baffour Kofi Poku. A Systemic view of the Value of Environmental Conservation: The Case of Bono Takyiman, Ghana..- 12. Akena Adyanga, F. Customary Land Tenure and Ecological Sustainability in Acholi land, Northern Uganda.- 13. Machuki, S. with McIntyre-Mills, J. The role of participatory and inclusive governance in sustainable urban development of Nairobi, Kenya: a participatory approach.- 14. Coral Guerra,C. Analytical framework for a systemic analysis of drivers and dynamics of historical land-use changes: a shift toward Systems Thinking.- 15.Widianingsih, I, McLaren, H.J. & McIntyre-Mills, J. Decentralization, participatory planning and the Anthropocene in Indonesia, with a case example of the Berugak Dese, Lombok, Indonesia.- 16. Simbolan, J. A case study of water mis-use in Kupang, Indonesia.- 17. Gascon, M and McIntyre-Mills. Empowering Indigenous people : voice, choice and agency in rural development planning in Mindanao.- 18. Foote, J Hepi, M., Rogers-Koroheke, M Taimona, HSupporting indigenous environmental health action: a vignette.- 19. Buswell, C & Corcoran- Nantes, Y. Precarious Liaisons: gender, moral authority and marriage in colonial Kenya.- 20. Corcoran-Nantes, Y. & Buswell, C. Rumour and Innuendo: Witchcraft and Women's Power in the 'Colonised' State..- 21. Kakoulaki, M & Christakis, A.N . Demoscopio: the Meta-Science Co-Laboratory for Democratic [R]evolution.- Epilogue Rayner, A. Natural Inclusion: a new understanding of evolutionary kinship of all.
This book addresses the social and environmental justice challenge to live sustainably and well. It considers the consequences of our social, economic and environmental policy and governance decisions for this generation and the next. The book tests out ways to improve representation, accountability and re-generation. It addresses the need to take into account the ethical implications of policy and governance decisions in the short, medium and long term based on testing out the implications for self, other and the environment. This book recognizes the negative impact that humans have had on the Earth's ecosystem and recommends a less anthropocentric way of looking at policies and governance. The chapters discuss the geologic impact that people have had on the globe, both positive and negative, and brings awareness to the anthropocentric interventions that have influenced life on Earth during the Holocene era. Based on these observations, the authors discuss original ideas and critical reviews on ways to govern those who interpret the world in terms of human values and experience, and to conduct an egalitarian lifestyle. These ideas address the growing rise in the size of the ecological footprints of some at the expense of the majority, the growth in unsustainable food choices and of displaced people, and the need for a new sense of relationship with nature and other animals, among other issues.

The chapters included in Balancing Individualism and Collectivism: Social and Environmental Justice encourage readers to challenge the sustainability agenda of the anthropocentric life. Proposed solutions to these unsustainable actions include structuralized interventions and volunteerism through encouragement and education, with a focus on protecting current and future generations of life through new governmental etiquette and human cognizance.
Editiert von: Janet McIntyre-Mills, Norma Romm, Yvonne Corcoran-Nantes
McIntyre-Mills, J.
Dr Janet McIntyre-Mills is an Associate Professor in the School of Social and Policy Studies at Flinders University, Adjunct Professor at the University of Indonesia and Islamic National University in Indonesia, and Honorary Professor at the University of South Africa. Her research focuses on systemic representation, accountability and re-generation applied to social and environmental justice concerns such as health, housing and social inclusion and the mitigation and adaptation to climate change. She addresses complex needs by exploring the meanings and 'what if' questions with diverse stakeholders.


Her recent books include 'From Wall Street to Wellbeing: Joining up the dots through Participatory Democracy and Governance to Mitigate the Causes and Adapt to the Effects of Climate Change'. ISBN 978-1-4899-7465-5 and 'Systemic ethics and Non-anthropocentric Stewardship: Implications for Trans disciplinarity and Cosmopolitan politics', ISBN 978-3-519-07655-3.
Zu diesem Artikel ist noch keine Rezension vorhanden.
Helfen sie anderen Besuchern und verfassen Sie selbst eine Rezension.
Autor: Janet McIntyre-Mills
ISBN-13 :: 9783319580135
ISBN: 3319580132
Erscheinungsjahr: 01.11.2017
Verlag: Springer-Verlag GmbH
Gewicht: 919g
Seiten: 472
Sprache: Englisch
Sonstiges: Buch, 241x163x32 mm, 7 schwarz-weiße und 54 farbige Abbildungen, Bibliographie
Mehr von

Weitere Artikel von