Autor:
Dimitri Volchenkov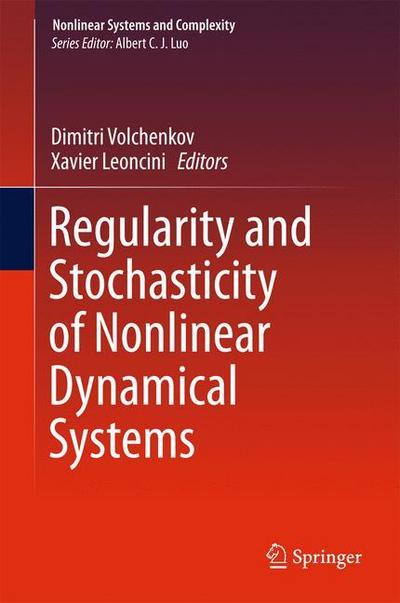 Regularity and Stochasticity of Nonlinear Dynamical Systems
21, Nonlinear Systems and Complexity
Presents the most up-to-date understanding in nonlinear dynamical systems along with new theories and methodologies applied to nonlinear physics, engineering, and social science
Solvability of Some Integro-Di erential Equations with Anomalous Di usion.- Poincare Recurrences in Ergodic Systems Without Mixing.- Success, Hierarchy, and Inequality under Uncertainty.- Grazing in Impulsive Differential Equations.- On Local Topological Classification of Two-dimensional Orientable, Nonorientable and Half-orientable Horseshoes.- From Chaos to Order in a Ring of Coupled Oscillator Swith Frequency Mismatch.- Dynamics of some nonlinear meromorphic functions.- Dynamics of oscillatory networks with pulse delayed coupling.- Bifurcation trees of period-3 motions to chaos in a time-delayed Duffing Oscillator.- Travelable Period-1 Motions to Chaos in a Periodically Excited Pendulum.- Automorphic systems and differential-invariant solutions.
This book presents recent developments in nonlinear dynamics and physics with an emphasis on complex systems. The contributors provide recent theoretic developments and new techniques to solve nonlinear dynamical systems and help readers understand complexity, stochasticity, and regularity in nonlinear dynamical systems. This book covers integro-differential equation solvability, Poincare recurrences in ergodic systems, orientable horseshoe structure, analytical routes of periodic motions to chaos, grazing on impulsive differential equations, from chaos to order in coupled oscillators, and differential-invariant solutions for automorphic systems, inequality under uncertainty.
Editiert von: Dimitri Volchenkov, Xavier Leoncini
Dimitri Volchenkov is Associate Professor at the Department of Mathematics & Statistics, Texas Tech University, Lubbock, TX, USA and Sichuan University of Science and Engineering, Zigong, China.
Xavier Leoncini is Associate Professor at Aix-Marseille University, France.
Zu diesem Artikel ist noch keine Rezension vorhanden.
Helfen sie anderen Besuchern und verfassen Sie selbst eine Rezension.
Autor: Dimitri Volchenkov
ISBN-13 :: 9783319580616
ISBN: 3319580612
Erscheinungsjahr: 03.07.2017
Verlag: Springer-Verlag GmbH
Gewicht: 643g
Seiten: 311
Sprache: Englisch
Sonstiges: Buch, 241x159x25 mm, 19 schwarz-weiße und 78 farbige Abbildungen, Bibliographie