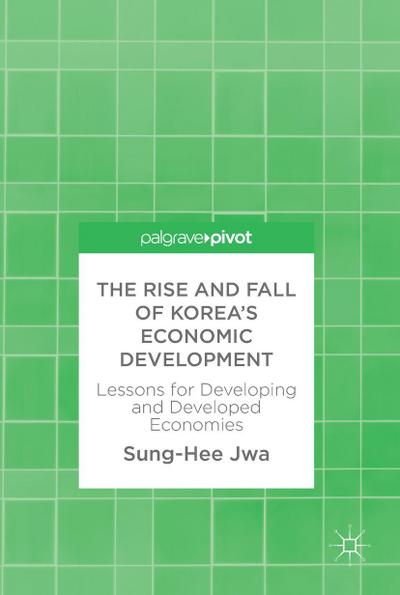 The Rise and Fall of Korea's Economic Development
Lessons for Developing and Developed Economies
Gives a perspective on Korea's economic development by a Korean economist and author
Chapter 1: Introduction.- Chapter 2: Myths and Realities of Korea's Economic Development.- Chapter 3: A Brief Overview of Economic Development Theories.- Chapter 4. Pathway to a New Theory of Economic Development.- Chapter 5: An Overview of Global Economic Development Experiences.- Chapter 6: Korea's Economic Development.- Chapter 7: Eight Key Lessons from Korea's Development Experiences.- Chapter 8: Reproducibility Of The Korean Economic Miracle.- Chapter 9: Concluding Remarks.
This book provides a unique and refreshing look at the Korean economy over the past 60 years. While most books and articles on the Korean economy would be technical or specifically address some aspect of Korea, this book takes an overarching view of Korea's economic development. It assesses Korea's economic take-off in the 1960s and 1970s, but also views the problems of 'economic egalitarianism' since the late-1980s to today. The book begins by listing and dispelling a number of important myths of the Korean economy and concludes by providing eight important 'lessons' derived from Korea's experiences for developed as well as developing countries.
Autor: Sung-Hee Jwa
Sung-Hee Jwa is a graduate of Seoul National University and has a Ph.D in Economics from UCLA. He currently serves as Chairman of President Park Chung Hee Memorial Foundation and Chair Professor at Yeungnam University. He has also for many years taught courses on the Korean economy at Seoul National University and KDI School of Public Policy. He once served as President of Korea Economic Research Institute.
Zu diesem Artikel ist noch keine Rezension vorhanden.
Helfen sie anderen Besuchern und verfassen Sie selbst eine Rezension.
Autor: Sung-Hee Jwa
ISBN-13 :: 9783319580647
ISBN: 3319580647
Erscheinungsjahr: 13.10.2017
Verlag: Springer-Verlag GmbH
Gewicht: 374g
Seiten: 168
Sprache: Englisch
Sonstiges: Buch, 216x154x17 mm, 35 schwarz-weiße Abbildungen, Bibliographie
Mehr von

Weitere Artikel von