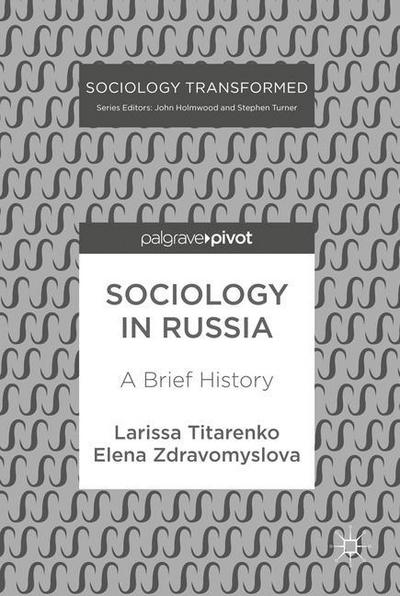 Sociology in Russia
A Brief History
Fills a significant lacuna in our understanding of European sociology
1: Introduction.- 2: Russian Early Period of Sociology: Predecessors and First Professionals.- 3: Russian sociology in the 1920s-mid-1950s: Beginning of Soviet Sociology.- 4: Revival, Partial Institutionalization, Stagnation and Final Recognition of Soviet Sociology.- 5: From Soviet Sociology to Scientific Discipline.- 6: Gender Studies: the Novelty at the Russian Academic Scene.- 7: Whither Russian Sociology? Problems and Prospects.- 8: Conclusion.
This book represents the first comprehensive historical treatment of sociology in Russia from the mid-nineteenth century through the pre-revolutionary and Soviet eras to the present day. It sheds new light on the dramatic history of sociology in the Russian context; dramatic both in its relationship with state power, and in the large-scale societal transformations it has had to grapple with. The authors highlight several particularities including the late institutionalization of sociology in the Soviet period, the breaks in continuity between its main historical periods and the relationship between sociology and power throughout its history. This valuable work will appeal to social science and history scholars, as well as readers interested in the history of contemporary Russia.
Autor: Larissa Titarenko, Elena Zdravomyslova
Larissa Titarenko is Professor of Sociology at Belarusian State University, Belarus.
Elena Zdravomyslova is Professor at European University at St. Petersburg, Russia.
Zu diesem Artikel ist noch keine Rezension vorhanden.
Helfen sie anderen Besuchern und verfassen Sie selbst eine Rezension.
Autor: Larissa Titarenko
ISBN-13 :: 9783319580845
ISBN: 3319580841
Erscheinungsjahr: 01.09.2017
Verlag: Springer-Verlag GmbH
Gewicht: 364g
Seiten: 158
Sprache: Englisch
Sonstiges: Buch, 218x156x17 mm, Bibliographie