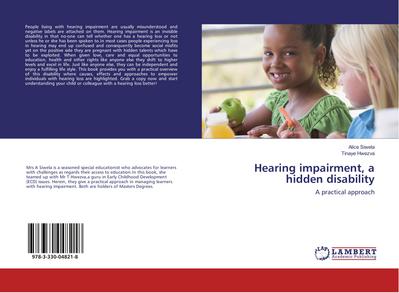 Hearing impairment, a hidden disability
A practical approach
People living with hearing impairment are usually misunderstood and negative labels are attached on them. Hearing impairment is an invisible disability in that no-one can tell whether one has a hearing loss or not unless he or she has been spoken to.In most cases people experiencing loss in hearing may end up confused and consequently become social misfits yet on the positive side they are pregnant with hidden talents which have to be exploited. When given love, care and equal opportunities to education, health and other rights like anyone else they shift to higher levels and excel in life. Just like anyone else, they can be independent and enjoy a fulfilling life style. This book provides you with a practical overview of this disability where causes, effects and approaches to empower individuals with hearing loss are highlighted. Grab a copy now and start understanding your child or colleague with a hearing loss better!
Autor: Alice Siwela, Tinaye Hwezva
Mrs A Siwela is a seasoned special educationist who advocates for learners with challenges as regards their access to education.In this book, she teamed up with Mr T Hwezva,a guru in Early Childhood Development (ECD) issues. Herein, they give a practical approach in managing learners with hearing impairment. Both are holders of Masters Degrees.
Zu diesem Artikel ist noch keine Rezension vorhanden.
Helfen sie anderen Besuchern und verfassen Sie selbst eine Rezension.
Autor: Alice Siwela
ISBN-13 :: 9783330048218
ISBN: 3330048212
Verlag: LAP Lambert Academic Publishing
Gewicht: 106g
Seiten: 60
Sprache: Englisch
Sonstiges: Taschenbuch, 220x150x4 mm