Autor:
Dominika Hyriakova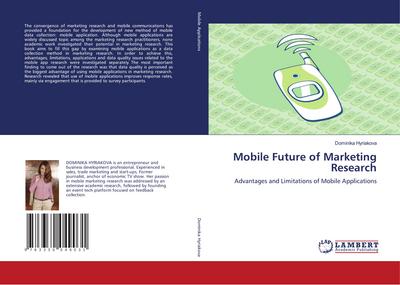 Mobile Future of Marketing Research
Advantages and Limitations of Mobile Applications
The convergence of marketing research and mobile communications has provided a foundation for the development of new method of mobile data collection: mobile application. Although mobile applications are widely discussed topic among the marketing research practitioners, none academic work investigated their potential in marketing research. This book aims to fill this gap by examining mobile applications as a data collection method in marketing research. In order to achieve this, advantages, limitations, applications and data quality issues related to the mobile app research were investigated separately. The most important finding to come out of the research was that data quality is perceived as the biggest advantage of using mobile applications in marketing research. Research revealed that use of mobile applications improves response rates, mainly via engagement that is provided to survey participants.
Autor: Dominika Hyriakova
DOMINIKA HYRIAKOVA is an entrepreneur and business development professional. Experienced in sales, trade marketing and start-ups. Former journalist, anchor of economic TV show. Her passion in mobile marketing research was addressed by an extensive academic research, followed by founding an event tech platform focused on feedback collection.
Zu diesem Artikel ist noch keine Rezension vorhanden.
Helfen sie anderen Besuchern und verfassen Sie selbst eine Rezension.
Autor: Dominika Hyriakova
ISBN-13 :: 9783330049031
ISBN: 3330049030
Verlag: LAP Lambert Academic Publishing
Gewicht: 356g
Seiten: 228
Sprache: Englisch
Sonstiges: Taschenbuch, 220x150x14 mm