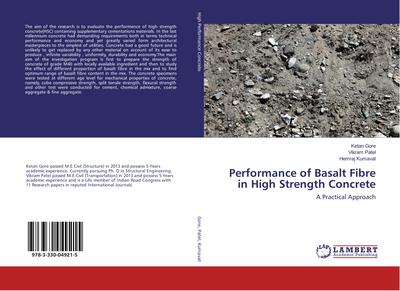 Performance of Basalt Fibre in High Strength Concrete
A Practical Approach
The aim of the research is to evaluate the performance of high strength concrete(HSC) containing supplementary cementations materials. In the last millennium concrete had demanding requirements both in terms technical performance and economy and yet greatly varied form architectural masterpieces to the simplest of utilities. Concrete had a good future and is unlikely to get replaced by any other material on account of its ease to produce , infinite variability , uniformity, durability and economy.The main aim of the investigation program is first to prepare the strength of concrete of grade M40 with locally available ingredient and then to study the effect of different proportion of basalt fibre in the mix and to find optimum range of basalt fibre content in the mix. The concrete specimens were tested at different age level for mechanical properties of concrete, namely, cube compressive strength, split tensile strength, flexural strength and other test were conducted for cement, chemical admixture, coarse aggregate & fine aggregate.
Autor: Ketan Gore, Vikram Patel, Hemraj Kumavat
Ketan Gore passed M.E.Civil (Structure) in 2013 and possess 5 Years academic experience. Currently pursuing Ph. D in Structural Engineering.Vikram Patel passed M.E.Civil (Transportation) in 2013 and possess 5 Years academic experience and is a Life member of Indian Road Congress with 11 Research papers in reputed International Journals.
Zu diesem Artikel ist noch keine Rezension vorhanden.
Helfen sie anderen Besuchern und verfassen Sie selbst eine Rezension.
Autor: Ketan Gore
ISBN-13 :: 9783330049215
ISBN: 3330049219
Verlag: LAP Lambert Academic Publishing
Gewicht: 171g
Seiten: 104
Sprache: Englisch
Sonstiges: Taschenbuch, 220x150x6 mm