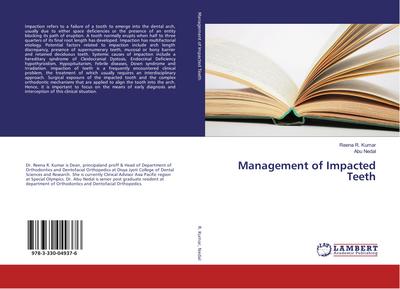 Management of Impacted Teeth
Impaction refers to a failure of a tooth to emerge into the dental arch, usually due to either space deficiencies or the presence of an entity blocking its path of eruption. A tooth normally erupts when half to three quarters of its final root length has developed. Impaction has multifactorial etiology. Potential factors related to impaction include arch length discrepancy, presence of supernumerary teeth, mucosal or bony barrier and retained deciduous teeth. Systemic causes of impaction include a hereditary syndrome of Cleidocranial Dystosis, Endocrinal Deficiency hypothyroidism, Hypopituitarism, Febrile diseases, Down syndrome and Irradiation. Impaction of teeth is a frequently encountered clinical problem, the treatment of which usually requires an interdisciplinary approach. Surgical exposure of the impacted tooth and the complex orthodontic mechanisms that are applied to align the tooth into the arch. Hence, it is important to focus on the means of early diagnosis and interception of this clinical situation.
Autor: Reena R. Kumar, Abu Nedal
Dr. Reena R. Kumar is Dean, principaland proff & Head of Department of Orthodontics and Dentofacial Orthopedics at Divya Jyoti College of Dental Sciences and Research. She is currently Clinical Advisor Asia Pacific region at Special Olympics.Dr. Abu Nedal is senior post graduate resident at department of Orthodontics and Dentofacial Orthopedics.
Zu diesem Artikel ist noch keine Rezension vorhanden.
Helfen sie anderen Besuchern und verfassen Sie selbst eine Rezension.
Autor: Reena R. Kumar
ISBN-13 :: 9783330049376
ISBN: 3330049375
Verlag: LAP Lambert Academic Publishing
Gewicht: 219g
Seiten: 136
Sprache: Englisch
Sonstiges: Taschenbuch, 220x150x8 mm