Autor:
Ngoh Ebenizer Ekalle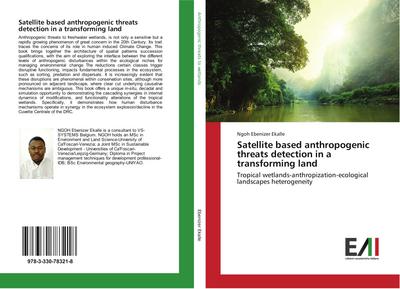 Satellite based anthropogenic threats detection in a transforming land
Tropical wetlands-anthropization-ecological landscapes heterogeneity
99
Anthropogenic threats to freshwater wetlands, is not only a sensitive but a rapidly growing phenomenon of great concern in the 20th Century. Its trait traces the concerns of its role in human induced Climate Change. This book brings together the architecture of spatial patterns succession qualifications, with the aim of exploring the interface between the different levels of anthropogenic disturbances within the ecological niches for managing environmental change. The reductions certain classes trigger disruptive functioning, impacts fundamental processes in the ecosystem, such as sorting, predation and dispersals. It is increasingly evident that these disruptions are phenomenal within conservation sites, although more pronounced on adjacent landscape, where clear cut underlying causative mechanisms are ambiguous. This book offers a unique in-situ, decadal and simulation opportunity to demonstrating the cascading synergies in internal dynamics of modifications, and functionality alterations of the tropical wetlands. Specifically, it demonstrates how human disturbance mechanisms operate in synergy in the ecosystem explosion/decline in the Cuvette Centrale of the DRC.

Autor: Ngoh Ebenizer Ekalle
NGOH Ebenizer Ekalle is a consultant to VS-SYSTEMS Belgium. NGOH holds an MSc in Environment and Land Science-University of Ca'Foscari-Venezia; a Joint MSc in Sustainable Development - Universities of Ca'Foscari-Venezia/Leipzig-Germany; Diploma in Project management techniques for development professional-IDB; BSc Environmental geography-UNIYAO.
Zu diesem Artikel ist noch keine Rezension vorhanden.
Helfen sie anderen Besuchern und verfassen Sie selbst eine Rezension.
Autor: Ngoh Ebenizer Ekalle
ISBN-13 :: 9783330783218
ISBN: 3330783214
Erscheinungsjahr: 01.08.2017
Verlag: Edizioni Accademiche Italiane
Gewicht: 237g
Seiten: 148
Sprache: Englisch
Sonstiges: Taschenbuch, 220x150x9 mm