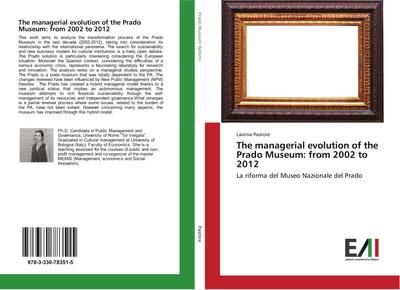 The managerial evolution of the Prado Museum: from 2002 to 2012
La riforma del Museo Nazionale del Prado
This work aims to analyze the transformation process of the Prado Museum in the last decade (2002-2012), taking into consideration its relationship with the international panorama. The search for sustainability and new business models for cultural institutions is a lively open debate. The Prado solution is particularly interesting considering the European situation. Moreover the Spanish context, considering the difficulties of a serious economic crisis, represents a fascinating laboratory for research and innovation. The analysis relies on a managerial studies perspective. The Prado is a state museum that was totally dependent to the PA. The changes reviewed have been influenced by New Public Management (NPM) theories . The Prado has created a hybrid managerial model thanks to a new juridical status that implies an autonomous management. The museum attempts to rich financial sustainability through the self-management of its resources and independent governance.What emerges is a partial renewal process where some issues, related to the burden of the PA, have not been solved. However concerning many aspects, the museum has improved through this hybrid model.
Autor: Lavinia Pastore
Ph.D. Candidate in Public Management and Governance, University of Rome "Tor Vergata". Graduated in Cultural management at University of Bologna (Italy), Faculty of Economics. She is a teaching assistant for the courses of public and non-profit management and co-organizer of the master MEMIS (Management, economics and Social Innovation).
Zu diesem Artikel ist noch keine Rezension vorhanden.
Helfen sie anderen Besuchern und verfassen Sie selbst eine Rezension.
Autor: Lavinia Pastore
ISBN-13 :: 9783330783515
ISBN: 3330783516
Erscheinungsjahr: 13.07.2017
Verlag: Edizioni Accademiche Italiane
Gewicht: 213g
Seiten: 132
Sprache: Englisch
Sonstiges: Taschenbuch, 220x150x8 mm