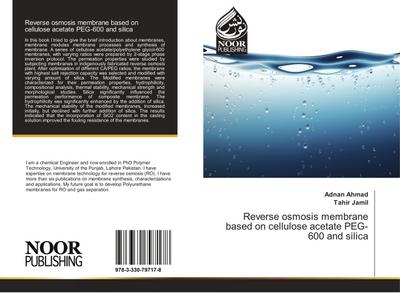 Reverse osmosis membrane based on cellulose acetate PEG-600 and silica
99
In this book I tried to give the brief introduction about membranes, membrane modules membrane processes and synthesis of membrane. A series of cellulose acetate/polyethylene glycol-600 membranes, with varying ratios were prepared by 2-stage phase inversion protocol. The permeation properties were studied by subjecting membranes in indigenously fabricated reverse osmosis plant. After optimization of different CA/PEG ratios, the membrane with highest salt rejection capacity was selected and modified with varying amount of silica. The Modified membranes were characterized for their permeation properties, hydrophilicity, compositional analysis, thermal stability, mechanical strength and morphological studies. Silica significantly influenced the permeation performance of composite membrane. The hydrophilicity was significantly enhanced by the addition of silica. The mechanical stability of the modified membranes, increased initially, but declined with further addition of silica. The results indicated that the incorporation of SiO2 content in the casting solution improved the fouling resistance of the membranes.

Autor: Adnan Ahmad, Tahir Jamil
I am a chemical Engineer and now enrolled in PhD Polymer Technology, University of the Punjab, Lahore Pakistan. I have expertise on membrane technology for reverse osmosis (RO). I have more than six publications on membrane synthesis, characterizations and applications. My future goal is to develop Polyurethane membranes for RO and gas separation.
Zu diesem Artikel ist noch keine Rezension vorhanden.
Helfen sie anderen Besuchern und verfassen Sie selbst eine Rezension.
Autor: Adnan Ahmad
ISBN-13 :: 9783330797178
ISBN: 3330797177
Verlag: Noor Publishing
Gewicht: 142g
Seiten: 84
Sprache: Englisch
Sonstiges: Taschenbuch, 220x150x5 mm