Autor:
Dominique Jaillard
Sprache:
Englisch,Französisch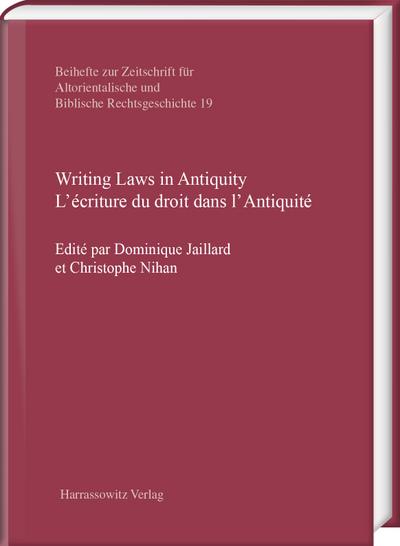 Writing Laws in Antiquity. L'écriture du droit dans l'Antiquité
19, Beihefte zur Zeitschrift für Altorientalische und Biblische Rechtsgeschichte
The present volume comprises various essays that examine the writing down and transmission of laws and legal collections in the ancient world, including Greece, Mesopotamia, Egypt and Israel. Using a comparative approach, the volume envisions the writing of legal collections as a complex set of social, political, economic and religious processes, and seeks to trace a number of the key dynamics involved in those processes. Additionally, the volume gives special attention to the writing down of ritual laws, which are considered here as a specific yet nonetheless instructive instance of legal formulation in ancient societies.In keeping with this methodological perspective, the first part of the volume ("Codes, Codification and Legislators") discusses the processes involved in the creation of legal collections as well as the relevance of the analytical categories used to describe these processes, whereas the second part ("Writing Ritual Prescriptions: Meanings and Functions") addresses issues related to the codification of ritual norms, especially in Greece and Israel. Overall, the volume aims to further the discussion on the writing of laws in antiquity with regard to a number of key questions, such as the relationship between written and unwritten norms, the function of written laws in the preservation and transformation of structures of authority, and the place of religion and rituals in processes of legal codification.
Zu diesem Artikel ist noch keine Rezension vorhanden.
Helfen sie anderen Besuchern und verfassen Sie selbst eine Rezension.
Autor: Dominique Jaillard
ISBN-13 :: 9783447068949
ISBN: 3447068949
Erscheinungsjahr: 14.06.2017
Verlag: Harrassowitz Verlag
Gewicht: 469g
Seiten: 170
Sprache: Englisch,Französisch
Sonstiges: Buch, 246x174x17 mm, 1 Tabellen