Einband:
Book. Inkl. CD-ROM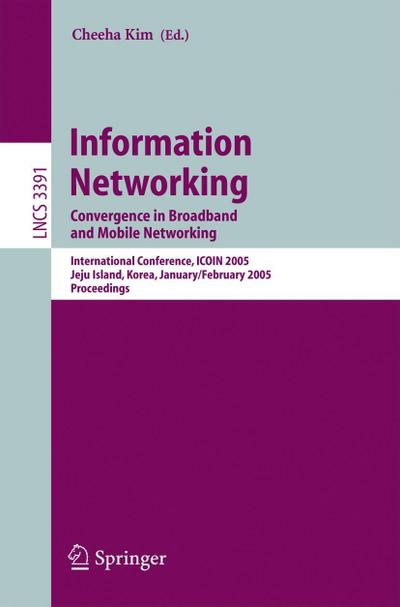 Information Networking. Convergence in Broadband and Mobile Networking
3391, Lecture Notes in Computer Science
International Conference, ICOIN 2005, Jeju Island, Korea, January 31 - February 2, 2005, Proceedings
'Wireless LAN.- Numerical Analysis of IEEE 802.11 Broadcast Scheme in Multihop Wireless Ad Hoc Networks.- Design and Performance Evaluation of an Optimal Collision Avoidance Mechanism over Congested and Noisy Channels for IEEE 802.11 DCF Access Method.- On the Load-Balanced Demand Points Assignment Problem in Large-Scale Wireless LANs.- Adaptive Window Mechanism for the IEEE 802.11 MAC in Wireless Ad Hoc Networks.- Experiments on the Energy Saving and Performance Effects of IEEE 802.11 Power Saving Mode (PSM).- Security I.- A High-Performance Network Monitoring Platform for Intrusion Detection.- Experience with Engineering a Network Forensics System.- An Alert Reasoning Method for Intrusion Detection System Using Attribute Oriented Induction.- SAPA: Software Agents for Prevention and Auditing of Security Faults in Networked Systems.- CIPS: Coordinated Intrusion Prevention System.- TCP and Congestion Control.- A Two-Phase TCP Congestion Control for Reducing Bias over Heterogeneous Networks.- A New Congestion Control Mechanism of TCP with Inline Network Measurement.- V-TCP: A Novel TCP Enhancement Technique for Wireless Mobile Environments.- Adaptive Vegas: A Solution of Unfairness Problem for TCP Vegas.- RED Based Congestion Control Mechanism for Internet Traffic at Routers.- Wireless Ad Hoc Network Routing.- Selective Route Discovery Routing Algorithm for Mobile Ad-Hoc Networks.- LSRP: A Lightweight Secure Routing Protocol with Low Cost for Ad-Hoc Networks.- Cost-Effective Lifetime Prediction Based Routing Protocol for MANET.- Design and Simulation Result of a Weighted Load Aware Routing (WLAR) Protocol in Mobile Ad Hoc Network.- Network Measurement.- Modeling the Behavior of TCP in Web Traffic.- Using Passive Measuring to Calibrate Active Measuring Latency.- Topological Discrepancies Among Internet Measurements Using Different Sampling Methodologies.- Time and Space Correlation in BGP Messages.- Routing.- A Framework to Enhance Packet Delivery in Delay Bounded Overlay Multicast.- A Rerouting Scheme with Dynamic Control of Restoration Scope for Survivable MPLS Network.- QoS-Aware and Group Density-Aware Multicast Routing Protocol.- A Minimum Cost Multicast Routing Algorithm with the Consideration of Dynamic User Membership.- Power Control in Wireless Networks.- Optimal Multi-sink Positioning and Energy-Efficient Routing in Wireless Sensor Networks.- An Efficient Genetic Algorithm for the Power-Based QoS Many-to-One Routing Problem for Wireless Sensor Networks.- Advanced MAC Protocol with Energy-Efficiency for Wireless Sensor Networks.- The Energy-Efficient Algorithm for a Sensor Network.- QoS I.- Utility Based Service Differentiation in Wireless Packet Network.- ComBAQ: Provisioning Loss Differentiated Services for Hybrid Traffic in Routers.- Multiresolution Traffic Prediction: Combine RLS Algorithm with Wavelet Transform.- Proportional Fairness Mechanisms for the AF Service in a Diffserv Network.- High Speed Networks.- RWA on Scheduled Lightpath Demands in WDM Optical Transport Networks with Time Disjoint Paths.- Performance Implications of Nodal Degree for Optical Burst Switching Mesh Networks Using Signaling Protocols with One-Way Reservation Schemes.- Offset-Time Compensation Algorithm - QoS Provisioning for the Control Channel of the Optical Burst Switching Network.- A Mapping Algorithm for Quality Guaranteed Network Design Based on DiffServ over MPLS Model over UMTS Packet Network.- Wireless Networks I.- A Route Optimization Scheme by Using Regional Information in Mobile Networks.- An Efficient Broadcast Scheme for Wireless Data Schedule Under a New Data Affinity Model.- S-RO: Simple Route Optimization Scheme with NEMO Transparency.- Decreasing Mobile IPv6 Signaling with XCAST.- Downconversion of Multiple Bandpass Signals Based on Complex Bandpass Sampling for SDR Systems.- QoS II.- An Enhanced Traffic Marker for DiffServ N
Welcome to ICOIN 2005,the International Conference on Information Netwo- ing, held at Ramada Plaza Jeju Hotel, Jeju Island, Korea during January 31- February2,2005.ICOIN2005followedthesuccessofpreviousconferences.Since 1986, the conference has provided a technical forum for various issues in inf- mation networking. The theme of each conference re?ects the historic events in the computer communication industry. (Please refer to icoin2005.or.kr for details.) The theme of ICOIN 2004, "Convergence in Broadband and Mobile Networking," was used again for ICOIN 2005 since we believed it was ongoing. This year we received 427 submissions in total, which came from 22 co- tries. Upon submission, authors were asked to select one of the categories listed in the Call for Papers. The most popular category chosen was network se- rity, followed by mobile networks and wireless LANs. Other areas with strong showings included QoS and resource management, ad hoc and sensor networks, and wireless multimedia systems. From the outset, we could see where recent research interest lay and could make sure that the theme was still going in the right direction.
Zu diesem Artikel ist noch keine Rezension vorhanden.
Helfen sie anderen Besuchern und verfassen Sie selbst eine Rezension.
Autor: Cheeha Kim
ISBN-13 :: 9783540244677
ISBN: 3540244670
Erscheinungsjahr: 24.01.2005
Verlag: Springer-Verlag GmbH
Gewicht: 1406g
Seiten: 936
Sprache: Englisch
Auflage 1, 2005.
Sonstiges: Taschenbuch, 233x154x50 mm, Bibliographie
Mehr von

Weitere Artikel von