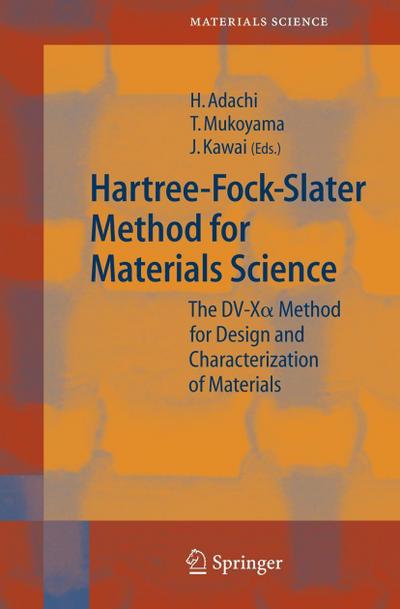 Hartree-Fock-Slater Method for Materials Science
84, Springer Series in Materials Science
The DV-X Alpha Method for Design and Characterization of Materials
Basic book on Hartree-Fock-Slater Method
Fundamental.- DV-X? Method and Molecular Structure.- Materials Science.- Alloy Design Based on the DV-X? Cluster Method.- Chemical Bonding Around Lattice Imperfections in 3d-Transition Metal Compounds.- Ceramics.- Magnetic Properties.- Optical Materials.- Heavy Elements.- Spectroscopy.- Radiative Transitions.- Response to the Creation of a Core Hole in Transition-Metal Compounds.- Determining Electronic Structure from Auger Spectra in the Cluster Approximation.
Molecular-orbital calculations for materials design such as alloys, ceramics, and coordination compounds are now possible for experimentalists. Molecuar-orbital calculations for the interpretation of chemical effect of spectra are also possible for experimentalists. The most suitable molecular-orbital calculation method for these purpose is the DV-Xa method, which is robust in such a way that the calculation converges to a result even if the structure of the molecule or solid is impossible in the pressure and temperature ranges on earth. This book specially addresses the methods to design novel materials and to predict the spectralline shape of unknown materials using the DV-Xa molecular-orbital method, but is also useful for those who want to calculate electronic structures of materials using any kind of method. TOC:DV-X-alpha method and molecular structure.- Alloy design based on DV-X-alpha cluster method.- Chemical bonding around lattice imperfections in 3D-transition metal compounds.- Application of the DV-X-alpha calculation to investigation of oxide ceramics.- Magnetic properties.- Optical materials.- Heavy elements.- Rediative transition.- Response to the creation of a core hole in transition metal compounds.- Determining electronic structure from Auger spectra in cluster approximation.
Zu diesem Artikel ist noch keine Rezension vorhanden.
Helfen sie anderen Besuchern und verfassen Sie selbst eine Rezension.
Autor: Hirohiko Adachi
ISBN-13 :: 9783540245087
ISBN: 3540245081
Erscheinungsjahr: 08.12.2005
Verlag: Springer-Verlag GmbH
Gewicht: 499g
Seiten: 256
Sprache: Englisch
Auflage 06000, 2006
Sonstiges: Buch, 243x167x22 mm, 132 illustrations
Mehr von

Weitere Artikel von