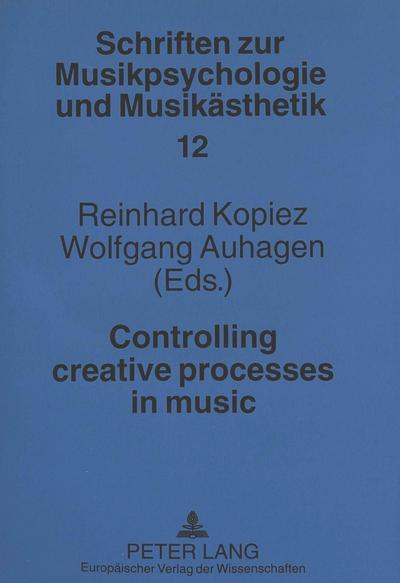 Controlling creative processes in music
12, Schriften zur Musikpsychologie und Musikästhetik
Contents: Helga de la Motte-Haber: Kreativität und musikalisches Handwerk - Jörg Langer, Reinhard Kopiez & Bernhard Feiten: Perception and representation of multiple tempo hierarchies in musical performance and composition: Perspectives from a new theoretical approach - Guerino Mazzola & Jan Beran: Rational composition of performance - Wolfgang Auhagen & Veronika Busch: The influence of articulation on listeners' regulation of performed tempo - Shuji Hashimoto & Hideyuki Sawada: Musical performance control using gesture: Toward kansei technology for art - Elena Ungeheuer: Speech-specific feedback processes in music and experimental speech compositions - Uwe Seifert: Intelligente Tutorielle Systeme, Hypermedia, Internet: Musikwissenschaft und Musikpädagogik in der Wissensgesellschaft - Ross Kirk & Andy Hunt: Computer assisted performance control for audio-visual instruments - Jean-Claude Risset: Real-time: Composition or performance? Reservations about real-time control in computer music and demonstration of a virtual piano partner - Tamas Ungvary & Michael Kieslinger: Creative and interpretative processmilieu for live-computermusic with the Sentograph - Helga de la Motte-Haber im Gespräch mit Arvo Pärt: Klang und Linie als Einheit.
More than 60 years have passed since Julius Bahle's fundamental study of the creative musical process in 1936. Although Bahle gave the green light to a systematic investigation of creative musical processes, a simple repetition of his approach would not be possible nowadays because the historical development of the artist's position has become a mixture of the former, separated roles: Today the interpreter also serves as a composer, or the listener as an interpreter. For these reasons the editors were convinced that a new approach to the topic of creative processes in music could not be restricted to the field of composition, but can be found in several artistic areas and therefore, creativity research must also include recent developments in other fields, such as performance research, computer music, and real-time improvisation. The idea of «control» and «regulation» in creative processes is a link between the disciplines.

Editiert von: Reinhard Kopiez, Wolfgang Auhagen
The Editors: Reinhard Kopiez is Professor of Systematic Musicology at the Music Academy in Würzburg (Bavaria, Germany). His main interest is performance research. Wolfgang Auhagen is Professor of Systematic Musicology at the Humboldt University Berlin (Germany). He is working in the field of perception of tempo and tonality.
Zu diesem Artikel ist noch keine Rezension vorhanden.
Helfen sie anderen Besuchern und verfassen Sie selbst eine Rezension.
Autor: Reinhard Kopiez
ISBN-13 :: 9783631331163
ISBN: 3631331169
Erscheinungsjahr: 01.04.1998
Verlag: Lang, Peter GmbH
Gewicht: 350g
Seiten: 245
Sprache: Englisch
Sonstiges: Taschenbuch, 213x149x19 mm