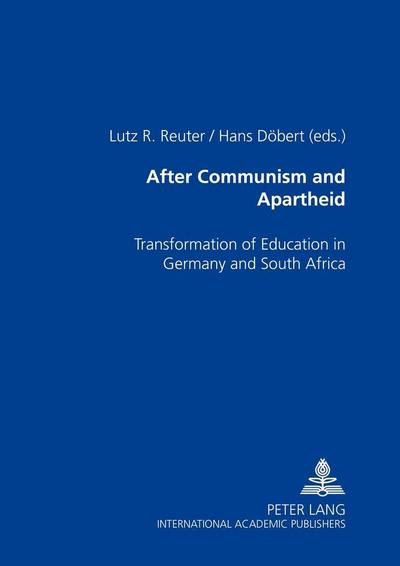 After Communism and Apartheid
Transformation of Education in Germany and South Africa
Contents: Lutz R. Reuter/Hans Döbert: After Communism and Apartheid: Processes and Outcomes of Education Transformation - Hans-Werner Fuchs/Lutz R. Reuter: Transformation of the Education Systems in the Eastern Laender - Hans Döbert: Transformation of the Role of Teachers - Hans-Werner Fuchs: Modernising Education: A Theoretical Approach - Willem S. du Plessis: The Educational and Political Context of Transformation - Jeanette de Klerk: Achievements and Challenges in Restructuring and Reculturing - Johann C. Steyn: Perceptions on Democratic Transformation of Education: The Debate on Quality and Equality - Yusef Waghid: Communitarian Liberalism, Democracy and Higher Education Transformation - Eli M. Bitzer: Transformation of Higher Education: From Policy Papers to Plans - Johan H. Schreuder: Leadership for Quality and Equality in Multicultural Schools - Wolfgang Mitter: Transformation Research and Comparative Educational Studies - Botho von Kopp: Education Transformation and GATS - New Paradigms in Government and Administration - Wolfgang Hörner: Higher Education in Poland after 1989.
The editors and contributors share the assumption that the democratic transformation of socio-political systems follows, in addition to certain often significant, national or regional peculiarities, universal patterns and that consequently the modernisation of education systems after the end of authoritarian regimes produces common features and outcomes. Twelve or eight years respectively after the fundamental system changes in Germany and South Africa the editors and authors of this volume want to assess the available research results on topics of educational transformation in both countries and to develop possibly new international research perspectives.
Editiert von: Lutz R. Reuter, Hans Döbert
The Editors: Lutz R. Reuter, born 1943; Professor of Education and Politics, Bundeswehr University of Hamburg, School of Education, Germany; fields of research: migration and minorities in education, educational politics and law, international and comparative education, political education. Hans Döbert, born 1947; Senior Research Fellow, German Institute for International Educational Research, Berlin, Germany; fields of research: education, schools and teachers in historical and comparative perspective.
Zu diesem Artikel ist noch keine Rezension vorhanden.
Helfen sie anderen Besuchern und verfassen Sie selbst eine Rezension.
Autor: Lutz R. Reuter
ISBN-13 :: 9783631399774
ISBN: 3631399774
Erscheinungsjahr: 05.09.2002
Verlag: Lang, Peter GmbH
Gewicht: 360g
Seiten: 270
Sprache: Englisch
Sonstiges: Taschenbuch, 208x146x17 mm, num. fig. and tables