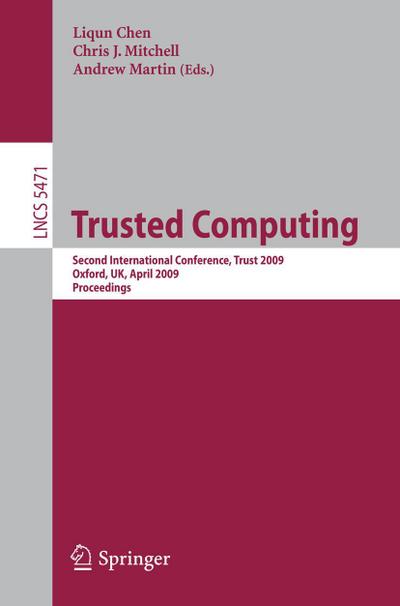 Trusted Computing
Second International Conference, Trust 2009 Oxford, UK, April 6-8, 2009, Proceedings
This book constitutes the refereed proceedings of the Second International Conference on Trusted Computing, TRUST 2009, held in Oxford, UK, in April 2009. The 15 revised full papers presented were carefully selected during two rounds of reviewing and improvement from an initial total of 33 submissions. The papers cover the core issues of trust in IT systems and present current research, devoted to technical aspects of trusted computing. The papers are organized in topical sections on implementation of trusted computing, attestation, PKI for trusted computing, applications.
Implementation of Trusted Computing.- Towards a Programmable TPM.- ACPI: Design Principles and Concerns.- Implementation Aspects of Mobile and Embedded Trusted Computing.- Modeling Trusted Computing Support in a Protection Profile for High Assurance Security Kernels.- Attestation.- Remote Attestation of Attribute Updates and Information Flows in a UCON System.- Measuring Semantic Integrity for Remote Attestation.- PKI for Trusted Computing.- A PrivacyCA for Anonymity and Trust.- Revocation of TPM Keys.- Applications I.- Securing the Dissemination of Emergency Response Data with an Integrated Hardware-Software Architecture.- Trustable Remote Verification of Web Services.- Trustworthy Log Reconciliation for Distributed Virtual Organisations.- Attacking the BitLocker Boot Process.- Applications II.- Secure VPNs for Trusted Computing Environments.- Merx: Secure and Privacy Preserving Delegated Payments.- A Property-Dependent Agent Transfer Protocol.
Thisvolumecontainsthe15paperspresentedinthetechnicalstrandoftheTrust 2009 conference, held in Oxford, UK in April 2009. Trust 2009 was the second international conference devoted to the technical and socio-economic aspects of trusted computing. The conference had two main strands, one devoted to technical aspects of trusted computing (addressed by these proceedings), and the other devoted to socio-economic aspects. Trust 2009 built on the successful Trust 2008 conference, held in Villach, Austria in March 2008. The proceedings of Trust 2008, containing 14 papers, were published in volume 4968 of the Lecture Notes in Computer Science series. ThetechnicalstrandofTrust2009contained15originalpapersonthedesign and application of trusted computing. For these proceedings the papers have been divided into four main categories, namely: - Implementation of trusted computing - Attestation - PKI for trusted computing - Applications of trusted computing The 15 papers included here were selected from a total of 33 submissions. The refereeing process was rigorous, involving at least three (and mostly more) independent reports being prepared for each submission. We are very grateful to our hard-working and distinguished Program Committee for doing such an excellent job in a timely fashion. We believe that the result is a high-quality set of papers, some of which have been signi?cantly improved as a result of the refereeing process. We would also like to thank all the authors who submitted their papers to the technical strand of the Trust 2009 conference, all external referees, and all the attendees of the conference.
Editiert von: Liqun Chen, Andrew Martin, Chris J. Mitchell
IM Andrew Martin is 50 years old and is the manager of Coaching for the English Chess Federation
Zu diesem Artikel ist noch keine Rezension vorhanden.
Helfen sie anderen Besuchern und verfassen Sie selbst eine Rezension.
Autor: Liqun Chen
ISBN-13 :: 9783642005862
ISBN: 3642005861
Erscheinungsjahr: 26.03.2009
Verlag: Springer Berlin Heidelberg
Gewicht: 421g
Seiten: 276
Sprache: Englisch
Auflage 2009
Sonstiges: Taschenbuch, 242x158x18 mm
Mehr von

Weitere Artikel von