Autor:
Constantine Arvanitopoulos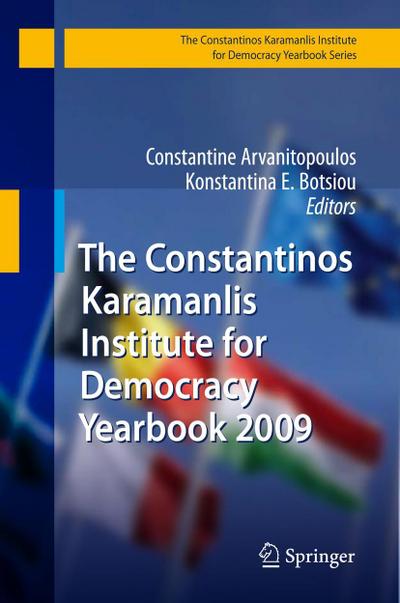 The Constantinos Karamanlis Institute for Democracy Yearbook 2009
The year 2009 finds Europe at a crossroads. This book addresses this complex international environment through essays that were presented in publications and public events of the Constantinos Karamanlis Institute for Democracy.
International politics of 2008/2009 from a European standpoint
Transforming South-East Europe: A Challenge for Smart Power.- Greece-France: A New Alliance.- The Czech Presidency of the European Union: A Return to Roots.- Quo Vadis, Europe?.- The 'Promise' of the Lisbon Treaty: A Critical Reading.- Climate Change and Its Effects in Greece.- Union for the Mediterranean, or Nicolas Sarkozy's Voluntarism in International Relations.- Does Too Much Regulation Stifle Employment?.- Greek Ideals in the American Democracy.- The Miracle and the Defects.- Euro-Atlantic Relations Following the Election of Barack Obama in the United States.- The Forgotten Crisis: Rising Food Prices.- On the Road to Damascus: Towards a New European Policy on the Middle East?.- The Unrest of the 1960s: Common Grounds and Legacy.- The Return of Cultural Property to Its Countries of Origin.
Constantine Arvanitopoulos and Konstantina E. Botsiou Europe at a Crossroads European uni?cation has rested on a dual premise. One part was the effort of the European nations to consolidate peace by overcoming the nationalism which had 1 twice drenched the continent in blood in the 20th century. War among West European states became unthinkable in the post-war era. The second part was the creation of a single European economy following the tremendous task of post-war 2 reconstruction and recovery. Over the years the achievement of economic stability was matched by initiatives that aimed to render Western Europe competitive on a global scale. The creation of the European Union (EU) in the 1990s through the Treaties of Maastricht (1992) and Amsterdam (1997), and later Nice (2001), which successively revised the founding Treaties of Rome (1957), was largely a response 3 to the challenge of globalisation. Integration 'rejuvenated' the nation state, thus creating the hybrid of the Euro- 4 pean welfare state, a mix of state-imposed stability and private initiative. Like its 1 Sforza, C. (1936). Europe and the Europeans: Community: Report A study in historical psych- ogy and international politics. London: George G. Harrap and Company. 2 Milward, A. S. (1984). The reconstruction of Western Europe 1945-1951. London: Routledge. Hogan, M. J. (1987). The Marshall plan: America, Britain, and the reconstruction of Western Europe, 1947-1954. Cambridge: Cambridge University Press. 3 Dyson, K. , & Featherstone, K. (1999).
Zu diesem Artikel ist noch keine Rezension vorhanden.
Helfen sie anderen Besuchern und verfassen Sie selbst eine Rezension.
Autor: Constantine Arvanitopoulos
ISBN-13 :: 9783642006203
ISBN: 3642006205
Erscheinungsjahr: 01.06.2009
Verlag: Springer-Verlag GmbH
Gewicht: 365g
Seiten: 113
Sprache: Englisch
Sonstiges: Buch, 243x161x20 mm
Mehr von

Weitere Artikel von