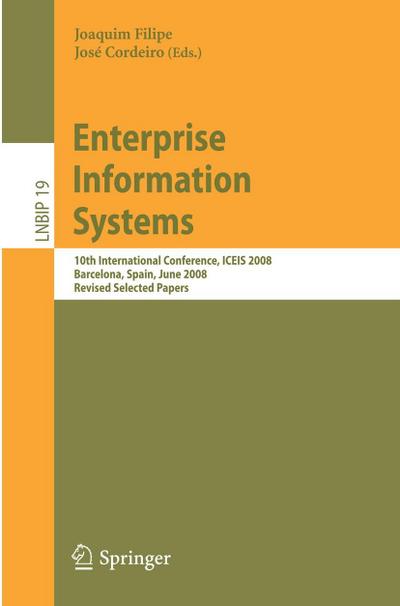 Enterprise Information Systems
19, Lecture Notes in Business Information Processing
10th International Conference, ICEIS 2008, Barcelona, Spain, June 12-16, 2008, Revised Selected Papers
Invited Papers.- The Link between Paper and Information Systems.- Service Engineering for the Internet of Services.- I: Databases and Information Systems Integration.- Bringing the XML and Semantic Web Worlds Closer: Transforming XML into RDF and Embedding XPath into SPARQL.- A Framework for Semi-automatic Data Integration.- Experiences with Industrial Ontology Engineering.- A Semiotic Approach to Quality in Specifications of Software Measures.- Hybrid Computational Models for Software Cost Prediction: An Approach Using Artificial Neural Networks and Genetic Algorithms.- II: Artificial Intelligence and Decision Support Systems.- How to Semantically Enhance a Data Mining Process?.- Next-Generation Misuse and Anomaly Prevention System.- Discovering Multi-perspective Process Models: The Case of Loosely-Structured Processes.- Tackling the Debugging Challenge of Rule Based Systems.- Semantic Annotation of EPC Models in Engineering Domains to Facilitate an Automated Identification of Common Modelling Practices.- III: Information Systems Analysis and Specification.- Tool Support for the Integration of Light-Weight Ontologies.- Business Process Modeling for Non-uniform Work.- Association Rules and Cosine Similarities in Ontology Relationship Learning.- Compositional Model-Checking Verification of Critical Systems.- Model-Driven Web Engineering in the CMS Domain: A Preliminary Research Applying SME.- IV: Software Agents and Internet Computing.- Binary Serialization for Mobile XForms Services.- An Efficient Neighbourhood Estimation Technique for Making Recommendations.- Improve Recommendation Quality with Item Taxonomic Information.- Adapting Integration Architectures Based on Semantic Web Services to Industrial Needs.- V: Human-Computer Interaction.- "Fact or Fiction?" Imposing Legitimacy for Trustworthy Information on the Web: A Qualitative Inquiry.- Enabling End Users to Proactively Tailor Underspecified, Human-Centric Business Processes: "Programming by Example" of Weakly-Structured Process Models.- Enhancing User Experience on the Web via Microformats-Based Recommendations.- Designing Universally Accessible Mobile Multimodal Artefacts.- Dissection of a Visualization On-Demand Server.
This book contains the best papers of the 10th International Conference on Enterprise Information Systems (ICEIS 2008), held in the city of Barcelona (Spain), organized by the Institute for Systems and Technologies of Information, Control and Com- nication (INSTICC) in cooperation with AAAI and co-sponsored by WfMC. ICEIS has become a major point of contact between research scientists, engineers and practitioners in the area of business applications of information systems. This year, five simultaneous tracks were held, covering different aspects related to enterprise computing, including: "Databases and Information Systems Integration," "Artificial Intelligence and Decision Support Systems," "Information Systems Analysis and Specification," "Software Agents and Internet Computing" and "Human-Computer Interaction." All tracks focused on real-world applications and highlighted the benefits of information systems and technology for industry and services, thus making a bridge between academia and enterprise. Following the success of 2007, ICEIS 2008 received 665 paper submissions from more than 40 countries. In all, 62 papers were published and presented as full papers, i.e., completed work (8 pages in proceedings / 30-min oral presentations), and 183 papers, reflecting work-in-progress or position papers, were accepted for short pr- entation and another 161 for poster presentation.
Zu diesem Artikel ist noch keine Rezension vorhanden.
Helfen sie anderen Besuchern und verfassen Sie selbst eine Rezension.
ISBN-13 :: 9783642006692
ISBN: 3642006698
Erscheinungsjahr: 01.04.2009
Verlag: Springer-Verlag GmbH
Gewicht: 577g
Seiten: 361
Sprache: Englisch
Sonstiges: Taschenbuch, 239x159x25 mm