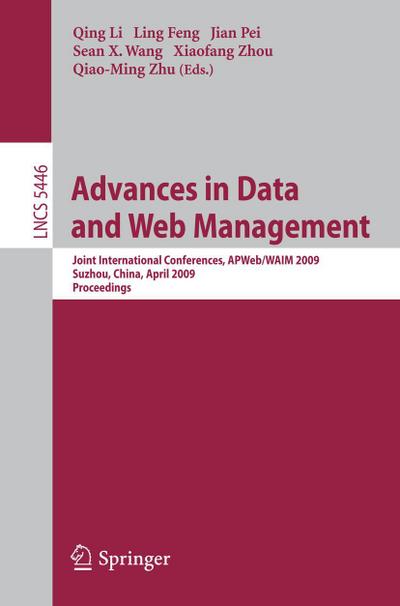 Advances in Data and Web Management
5446, Lecture Notes in Computer Science Information Systems and Applications, incl. Internet/Web, and HCI
Joint International Conferences, APWeb/WAIM 2009, Suzhou, China, April 2-4, 2009, Proceedings
Keynotes.- Distributed XML Processing.- Towards Multi-modal Extraction and Summarization of Conversations.- Query Processing I.- Simple but Effective Porn Query Recognition by k-NN with Semantic Similarity Measure.- Selective-NRA Algorithms for Top-k Queries.- Continuous K-Nearest Neighbor Query over Moving Objects in Road Networks.- Data Quality Aware Queries in Collaborative Information Systems.- Probabilistic Threshold Range Aggregate Query Processing over Uncertain Data.- Dynamic Data Migration Policies for Query-Intensive Distributed Data Environments.- Query Processing II.- C-Tree Indexing for Holistic Twig Joins.- Processing XML Keyword Search by Constructing Effective Structured Queries.- Representing Multiple Mappings between XML and Relational Schemas for Bi-directional Query Translation.- Finding Irredundant Contained Rewritings of Tree Pattern Queries Using Views.- Topic-Based Techniques.- IRank: A Term-Based Innovation Ranking System for Conferences and Scholars.- A Generalized Topic Modeling Approach for Maven Search.- Topic and Viewpoint Extraction for Diversity and Bias Analysis of News Contents.- Topic-Level Random Walk through Probabilistic Model.- Query-Focused Summarization by Combining Topic Model and Affinity Propagation.- Web Data Processing.- Rank Aggregation to Combine QoS in Web Search.- Personalized Delivery of On-Line Search Advertisement Based on User Interests.- Automatic Web Image Annotation via Web-Scale Image Semantic Space Learning.- Multidimensional Data Analysis.- Representing and Inferring Causalities among Classes of Multidimensional Data.- Efficient Incremental Computation of CUBE in Multiple Versions What-If Analysis.- Incremental Computation for MEDIAN Cubes in What-If Analysis.- The Tradeoff of Delta Table Merging and Re-writing Algorithms in What-If Analysis Application.- Stream Data Processing.- Efficiently Clustering Probabilistic Data Streams.- Detecting Abnormal Trend Evolution over Multiple Data Streams.- Mining Interventions from Parallel Event Sequences.- Effective Similarity Analysis over Event Streams Based on Sharing Extent.- Data Mining and Its Applications.- A Term-Based Driven Clustering Approach for Name Disambiguation.- Sentiment Clustering: A Novel Method to Explore in the Blogosphere.- Kernel-Based Transductive Learning with Nearest Neighbors.- An Improved Algorithm for Mining Non-Redundant Interacting Feature Subsets.- AutoPCS: A Phrase-Based Text Categorization System for Similar Texts.- A Probabilistic Approach for Mining Drifting User Interest.- Temporal Company Relation Mining from the Web.- Data Management Support to Advanced Applications.- StreetTiVo: Using a P2P XML Database System to Manage Multimedia Data in Your Living Room.- Qualitative Spatial Representation and Reasoning for Data Integration of Ocean Observational Systems.- Managing Hierarchical Information on Small Screens.- An Approach to Detect Collaborative Conflicts for Ontology Development.- Miscellaneous.- Using Link-Based Content Analysis to Measure Document Similarity Effectively.- Parallel Load Balancing Strategies for Tree-Structured Peer-to-Peer Networks.- A Verification Mechanism for Secured Message Processing in Business Collaboration.- Semantic Service Discovery by Consistency-Based Matchmaking.- A Fast Heuristic Algorithm for the Composite Web Service Selection.- Short Papers.- Intervention Events Detection and Prediction in Data Streams.- New Balanced Data Allocating and Online Migrating Algorithms in Database Cluster.- An Evaluation of Real-Time Transaction Services in Web Services E-Business Systems.- Formal Definition and Detection Algorithm for Passive Event in RFID Middleware.- Distributed Benchmarking of Relational Database Systems.- Optimizing Many-to-Many Data Aggregation in Wireless Sensor Networks.- Bag of Timestamps: A Simple and Efficient Bayesian Chronological Mining.- Efficient Hybrid Password-Based Authenticated Group Key Exchange.
This book constitutes the proceedings of the joint International Conference APWeb/WAIM 2009 which was held in Suzhou, China, during April 1-4, 2009. The 42 full papers presented together with 26 short papers and the abstracts of 2 keynote speeches were carefully reviewed and selected for inclusion in the book. The topics covered are query processing, topic-based techniques, Web data processing, multidimensional data analysis, stream data processing, data mining and its applications, and data management support to advanced applications.
Zu diesem Artikel ist noch keine Rezension vorhanden.
Helfen sie anderen Besuchern und verfassen Sie selbst eine Rezension.
Autor: Qing Li
ISBN-13 :: 9783642006715
ISBN: 364200671X
Erscheinungsjahr: 18.03.2009
Verlag: Springer-Verlag GmbH
Gewicht: 986g
Seiten: 685
Sprache: Englisch
Auflage 2009
Sonstiges: Taschenbuch, 240x157x30 mm, Illustrations
Mehr von

Weitere Artikel von