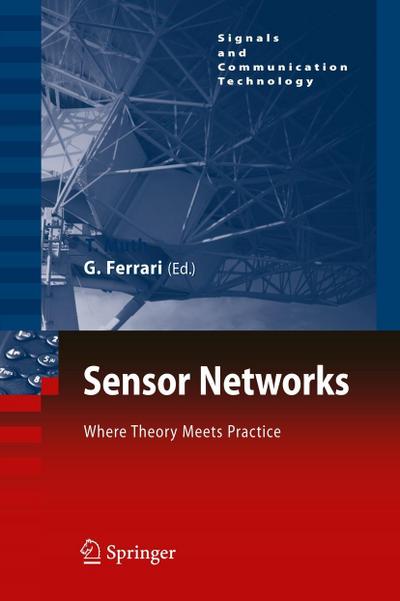 Sensor Networks
Signals and Communication Technology
Where Theory Meets Practice
Clear overview of on-going research activity
Theory.- Competition and Collaboration in Wireless Sensor Networks.- Distributed and Recursive Parameter Estimation.- Self-Organization of Sensor Networks with Heterogeneous Connectivity.- Cooperative Strategies in Dense Sensor Networks.- Multipath Diversity and Robustness for Sensor Networks.- Theory and Practice.- Data Aggregation in Wireless Sensor Networks: A Multifaceted Perspective.- Robust Data Dissemination for Wireless Sensor Networks in Hostile Environments.- Markov Decision Process-Based Resource and Information Management for Sensor Networks.- Practice.- Deployment Techniques for Sensor Networks.- Static and Dynamic Localization Techniques for Wireless Sensor Networks.- Enhancing Underwater Acoustic Sensor Networks Using Surface Radios: Issues, Challenges and Solutions.- Communication Through Soil in Wireless Underground Sensor Networks - Theory and Practice.- Body Sensor Networks for Sport, Wellbeing and Health.
The idea of this book comes from the observation that sensor networks represent a topic of interest from both theoretical and practical perspectives. The title und- lines that sensor networks offer the unique opportunity of clearly linking theory with practice. In fact, owing to their typical low-cost, academic researchers have the opportunity of implementing sensor network testbeds to check the validity of their theories, algorithms, protocols, etc., in reality. Likewise, a practitioner has the opportunity of understanding what are the principles behind the sensor networks under use and, thus, how to properly tune some accessible network parameters to improve the performance. On the basis of the observations above, the book has been structured in three parts:PartIisdenotedas"Theory,"sincethetopicsofits vechaptersareapparently "detached" from real scenarios; Part II is denoted as "Theory and Practice," since the topics of its three chapters, altough theoretical, have a clear connection with speci c practical scenarios; Part III is denoted as "Practice," since the topics of its ve chapters are clearly related to practical applications.
Zu diesem Artikel ist noch keine Rezension vorhanden.
Helfen sie anderen Besuchern und verfassen Sie selbst eine Rezension.
Autor: Gianluigi Ferrari
ISBN-13 :: 9783642013409
ISBN: 3642013406
Erscheinungsjahr: 01.03.2010
Verlag: Springer-Verlag GmbH
Gewicht: 737g
Seiten: 350
Sprache: Englisch
Sonstiges: Buch, 243x164x37 mm
Mehr von

Weitere Artikel von