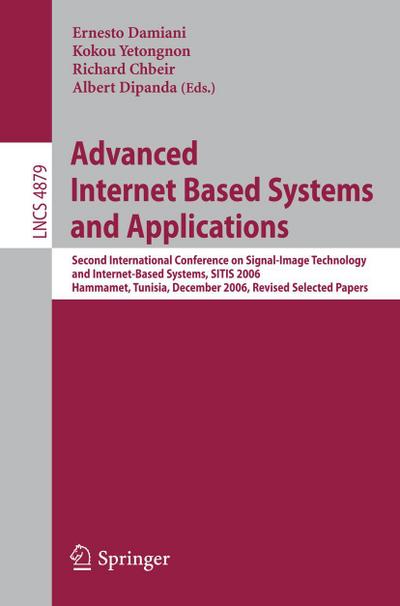 Advanced Internet Based Systems and Applications
Second International Conference on Signal-Image Technology and Internet-Based Systems, SITIS 2006, Hammamet, Tunisia, December 17-21, 2006, Revised Selected Papers
99
Query Languages and Information Retrieval.- An Automatic Video Text Detection, Localization and Extraction Approach.- Towards an MPEG-7 Query Language.- Characterizing Multimedia Objects through Multimodal Content Analysis and Fuzzy Fingerprints.- VeXQuery: An XQuery Extension for MPEG-7 Vector-Based Feature Query.- Towards a Flexible Query Language.- Annotate, Query and Design Multimedia Documents by Metadata.- Shifting Predicates to Inner Sub-expressions for XQuery Optimization.- Multimedia Databases and Systems.- AIRSTD: An Approach for Indexing and Retrieving Spatio-Temporal Data.- A Bridge between Document Management System and Geographical Information System.- A New Digital Notary System.- QFCP: A Router-Assisted Congestion Control Mechanism for Heterogeneous Networks (Extended).- Formalization of Multimodal Languages in Pervasive Computing Paradigm.- Generation of Spatial Decision Alternatives Based on a Planar Subdivision of the Study Area.- Distributed Architectures and Applications.- Market-Based Adaptive Discussion Forums.- Keyword Enhanced Web Structure Mining for Business Intelligence.- Modeling Multi-agent System of Management Road Transport: Tasks Planning and Negotiation.- An Agent-Based Organizational Model for Cooperative Information Gathering.- A Dynamic Grid Scheduler with a Resource Selection Policy.- DHT-Based Self-adapting Replication Protocol for Achieving High Data Availability.- Semantic Interoperability and Emerging Semantics.- A Hierarchical n-Grams Extraction Approach for Classification Problem.- Extension of Schema Matching Platform ASMADE to Constraints and Mapping Expression.- An Ontology Based Method for Normalisation of Multidimensional Terminology.- Semantic and Conceptual Context-Aware Information Retrieval.- A Multi-representation Ontology for the Specification of Multi-context Requirements.- Web Engineering and Services.- Scalability of Source Identification in Data Integration Systems.- Semantic Annotation of Web Pages Using Web Patterns.- Towards Formal Interfaces for Web Services with Transactions.- Extracting the Latent Hierarchical Structure of Web Documents.- CBR Method for Web Service Composition.- Web Semantics and Semi Structured Data.- Binding Structural Properties to Node and Path Constraints in XML Path Retrieval.- A Comparison of XML-Based Temporal Models.- An Adaptation Approach: Query Enrichment by User Profile.- Extending SOA with Semantic Mediators.
In recent years, Internet-based systems and applications have become pervasive and have been the focus of many ongoing research efforts. They range from semi-structured information, to multimedia systems and applications, to P2P and ad hoc information sharing networks and service-centric systems and applications. This book p- sents a collection of articles from the best papers presented at the SITIS 2006 International Conference, aiming to cover recent advanced research on distributed information systems, including both theoretical and applied solutions. This volume is designed for a professional audience practitioners and researchers in industry. It is also suitable as a reference or secondary text for advanced-level students in computer science and engineering. The articles in this book are a selection of papers presented at the IMRT and WITDS tracks of the international SITIS 2006 conference. The authors were asked to revise and extend their contributions to take into account the comments and discussions made at the conference. A large number of high-quality papers were submitted to SITIS 2006, demonstrating the growing interest of the - search community for Internet-Based and multimedia information systems. We would like to acknowledge the hard work and dedication of many people. Our deepest gratitude goes to the authors who contributed their work. We appreciate the diligent work of the SITIS Committee members. We are grateful for the help, support and patience of the LNCS publishing team. Finally, thanks to Iwayan Wikacsana for his invaluable help. February 2007 Ernesto Damiani Kokou Yetongnon Richard Chbeir Albert Dipanda

Editiert von: Richard Chbeir, Ernesto Damiani, Albert Dipanda, Kokou Yetongnon
Ernesto Damiani is a professor at the Department of Information Technology of the University of Milan. He is the Vice-Chair of the ACM Special Interest Group on Applied Computing (SIGAPP).
Zu diesem Artikel ist noch keine Rezension vorhanden.
Helfen sie anderen Besuchern und verfassen Sie selbst eine Rezension.
Autor: Richard Chbeir
ISBN-13 :: 9783642013492
ISBN: 364201349X
Erscheinungsjahr: 22.04.2009
Verlag: Springer Berlin Heidelberg
Gewicht: 581g
Seiten: 388
Sprache: Englisch
Auflage 2009
Sonstiges: Taschenbuch, 241x156x23 mm