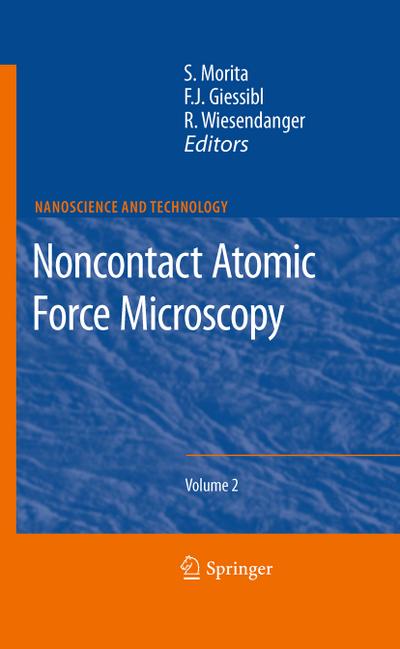 Noncontact Atomic Force Microscopy 2
NanoScience and Technology
Most advanced state-of-the-art report on scanning probe microscopy
Introduction.- Method for Precise Force Measurements.- Force Spectroscopy on Semiconductors.- Tip-sample Interactions as a Function of Distance on Insulating Surfaces.- Imaging and Force Spectroscopy on Layered Materials.- Principles and Applications of the qPlus Sensor.- Atomic Resolution Imaging and Site-Specific Spectroscopy on Model Catalyst.- Atom Manipulation on Semiconductor Surfaces.- Atomic Manipulation on Metal Surfaces.- Atom Manipulation on Insulator Surfaces.- Simulations on Atomic Manipulation on Semiconductor Surfaces.- Multi-Scale Modeling of NC-AFM Imaging and Controlling Atomic Dynamics at Insulating Surfaces.- Magnetic Exchange Force Microscopy.- Frequency Modulation Atomic Force Microscopy in Liquids.- Biological Applications of FM-AFM for Liquid Environment.- Low Amplitude High-Frequency Imaging with Deflection and Torsion of the Cantilever in Vacuum and Liquid.- Cantilever Dynamics and Nonlinear Effects in Atomic Force Microscopy.-
Since the original publication of Noncontact Atomic Force Microscopy in 2002, the noncontact atomic force microscope (NC-AFM) has achieved remarkable progress. This second treatment deals with the following outstanding recent results obtained with atomic resolution since then: force spectroscopy and mapping with atomic resolution; tuning fork; atomic manipulation; magnetic exchange force microscopy; atomic and molecular imaging in liquids; and other new technologies. These results and technologies are now helping evolve NC-AFM toward practical tools for characterization and manipulation of individual atoms/molecules and nanostructures with atomic/subatomic resolution. Therefore, the book exemplifies how NC-AFM has become a crucial tool for the expanding fields of nanoscience and nanotechnology.
Zu diesem Artikel ist noch keine Rezension vorhanden.
Helfen sie anderen Besuchern und verfassen Sie selbst eine Rezension.
Autor: Seizo Morita
ISBN-13 :: 9783642014949
ISBN: 3642014941
Erscheinungsjahr: 01.09.2010
Verlag: Springer-Verlag GmbH
Gewicht: 864g
Seiten: 401
Sprache: Englisch
Sonstiges: Buch, 244x167x33 mm, 201 schwarz-weiße und 30 farbige Abbildungen, 142 schwarz-weiße und 30 farbige Fotos, 59 schwarz-weiße Zeichnungen, 12 schwarz-weiße Tabellen
Mehr von

Weitere Artikel von