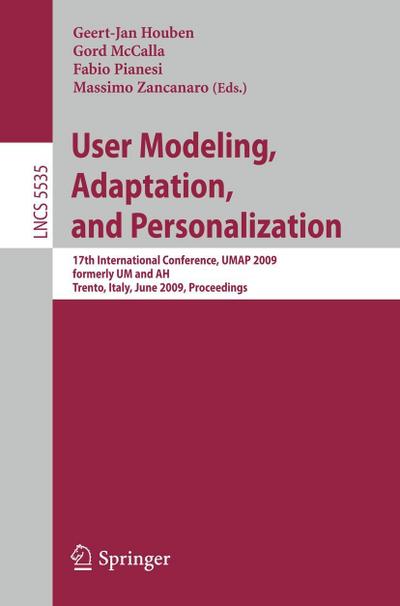 User Modeling, Adaptation, and Personalization
5535, Lecture Notes in Computer Science Information Systems and Applications, incl. Internet/Web, and HCI
17th International Conference, UMAP 2009, formerly UM and AH, Trento, Italy, June 22-26, 2009, Proceedings
Invited Talks (Abstracts).- Social Computers for the Social Animal: State-of-the-Art and Future Perspectives of Social Signal Processing.- Thinking Outside the (Search) Box.- Challenges for the Multi-dimensional Personalised Web.- Peer-reviewed Papers.- Modeling User Affect from Causes and Effects.- Evaluating Web Based Instructional Models Using Association Rule Mining.- Sensors Model Student Self Concept in the Classroom.- Use and Trust of Simple Independent Open Learner Models to Support Learning within and across Courses.- Narcissus: Group and Individual Models to Support Small Group Work.- Social Navigation Support for Information Seeking: If You Build It, Will They Come?.- Performance Evaluation of a Privacy-Enhancing Framework for Personalized Websites.- Creating User Profiles from a Command-Line Interface: A Statistical Approach.- Context-Aware Preference Model Based on a Study of Difference between Real and Supposed Situation Data.- Modeling the Personality of Participants During Group Interactions.- Predicting Customer Models Using Behavior-Based Features in Shops.- Investigating the Utility of Eye-Tracking Information on Affect and Reasoning for User Modeling.- Describing User Interactions in Adaptive Interactive Systems.- PerspectiveSpace: Opinion Modeling with Dimensionality Reduction.- Recognition of User Intentions for Interface Agents with Variable Order Markov Models.- Tell Me Where You've Lived, and I'll Tell You What You Like: Adapting Interfaces to Cultural Preferences.- Non-intrusive Personalisation of the Museum Experience.- Assessing the Impact of Measurement Uncertainty on User Models in Spatial Domains.- SoNARS: A Social Networks-Based Algorithm for Social Recommender Systems.- Grocery Product Recommendations from Natural Language Inputs.- I Like It... I Like It Not: Evaluating User Ratings Noise in Recommender Systems.- Evaluating Interface Variants on Personality Acquisition for Recommender Systems.- Context-Dependent Personalised Feedback Prioritisation in Exploratory Learning for Mathematical Generalisation.- Google Shared. A Case-Study in Social Search.- Collaborative Filtering Is Not Enough? Experiments with a Mixed-Model Recommender for Leisure Activities.- Enhancing Mobile Recommender Systems with Activity Inference.- Customer's Relationship Segmentation Driving the Predictive Modeling for Bad Debt Events.- Supporting Personalized User Concept Spaces and Recommendations for a Publication Sharing System.- Evaluating the Adaptation of a Learning System before the Prototype Is Ready: A Paper-Based Lab Study.- Capturing the User's Reading Context for Tailoring Summaries.- History Dependent Recommender Systems Based on Partial Matching.- Capturing User Intent for Analytic Process.- What Have the Neighbours Ever Done for Us? A Collaborative Filtering Perspective.- Investigating the Possibility of Adaptation and Personalization in Virtual Environments.- Detecting Guessed and Random Learners' Answers through Their Brainwaves.- Just-in-Time Adaptivity through Dynamic Items.- Collaborative Semantic Tagging of Web Resources on the Basis of Individual Knowledge Networks.- Working Memory Differences in E-Learning Environments: Optimization of Learners' Performance through Personalization.- Semantic Web Usage Mining: Using Semantics to Understand User Intentions.- Adaptive Tips for Helping Domain Experts.- On User Modelling for Personalised News Video Recommendation.- A Model of Temporally Changing User Behaviors in a Deployed Spoken Dialogue System.- Recognition of Users' Activities Using Constraint Satisfaction.- Reinforcing Recommendation Using Implicit Negative Feedback.- Evaluating Three Scrutability and Three Privacy User Privileges for a Scrutable User Modelling Infrastructure.- User Modeling of Disabled Persons for Generating Instructions to Medical First Responders.- Filtering Fitness Trail Content Generated by Mobile Users.- Adaptive Clustering of Search Results
This book constitutes the proceedings of the First International Conference on User Modeling, Adaptation, and Personalization, held in Trento, Italy, on June 22-26, 2009. This annual conference was merged from the biennial conference series User Modeling, UM, and the conference on Adaptive Hypermedia and Adaptive Web-Based Systems, AH. The 53 papers presented together with 3 invited talks were carefully reviewed and selected from 125 submissions. The tutorials and workshops were organized in topical sections on constraint-based tutoring systems; new paradigms for adaptive interaction; adaption and personalization for Web 2.0; lifelong user modelling; personalization in mobile and pervasive computing; ubiquitous user modeling; user-centred design and evaluation of adaptive systems.
Zu diesem Artikel ist noch keine Rezension vorhanden.
Helfen sie anderen Besuchern und verfassen Sie selbst eine Rezension.
Autor: Geert-Jan Houben
ISBN-13 :: 9783642022463
ISBN: 3642022464
Erscheinungsjahr: 08.06.2009
Verlag: Springer-Verlag GmbH
Gewicht: 770g
Seiten: 488
Sprache: Englisch
Auflage 2009
Sonstiges: Taschenbuch, 245x156x32 mm, Illustrations