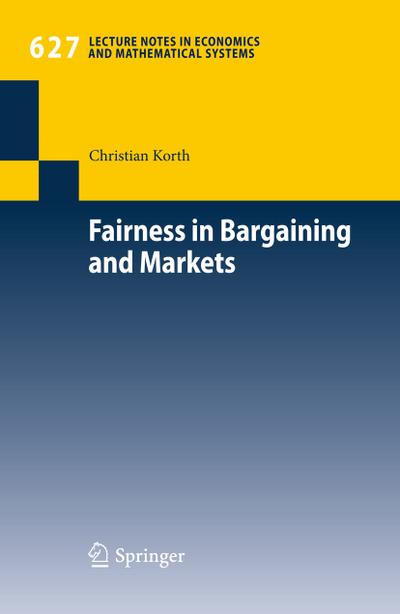 Fairness in Bargaining and Markets
627, Lecture Notes in Economics and Mathematical Systems
Focusing on the effects of social fairness norms on the interaction of market participants in bilateral bargaining situations, this contribution to behavioral economic research employs game theory as well as experiment to analyze how outcomes are affected.
99
Introduction.- Bargaining Theory.- Game Theory and Fairness Preferences.- Reciprocity - An Indirect Evolutionary Analysis.- Fairness Norms in Ultimatum Exchanges.- Fairness, Price Stickiness, and History Dependence in Decentralized Trade.- Generalizations and Extensions of the Decentralized Trade Model.- Price Rigidity in an Experimental Market
This book focuses on economic bargaining theory. Economic bargaining theory seeks to predict the outcomes of bargaining situations. In such situations, govern ments, ?rms, or individuals share a mutual interest in cooperation; however, they also have con?icting interests regarding the terms of an agreement. A classic ex ample of such a situation is wage bargaining between unions and employers. More commonplace examples also exist. For instance, a discussion between partners on how to spend an evening can be understood as a bargaining situation. Economic bargaining theory explores the relationship between bargaining situ ations and the outcomes of the bargaining. Economists have two primary reasons to show interest in this relationship. The ?rst reason is that many important human interactions, including economic interactions, are bargaining situations. The second reason is that the understanding of these situations may inform the economic theory of markets. The tool utilized in this study is the mathematical theory of games. Predictions for bargaining outcomes are developed by modeling the bargaining situation as a strategic game and using game theoretic equilibrium concepts in order to solve the game. In this approach, the speci?c identi?ed bargaining outcome depends on the assumptions underlying the model. The neoclassical and fundamental assumption is that of rational agents-called economic men-who strive to maximize their utility based on stable preferences.

Zu diesem Artikel ist noch keine Rezension vorhanden.
Helfen sie anderen Besuchern und verfassen Sie selbst eine Rezension.
Autor: Christian Korth
ISBN-13 :: 9783642022524
ISBN: 3642022529
Erscheinungsjahr: 01.07.2009
Verlag: Springer-Verlag GmbH
Gewicht: 298g
Seiten: 175
Sprache: Englisch
Sonstiges: Taschenbuch, 239x159x17 mm
Mehr von

Weitere Artikel von