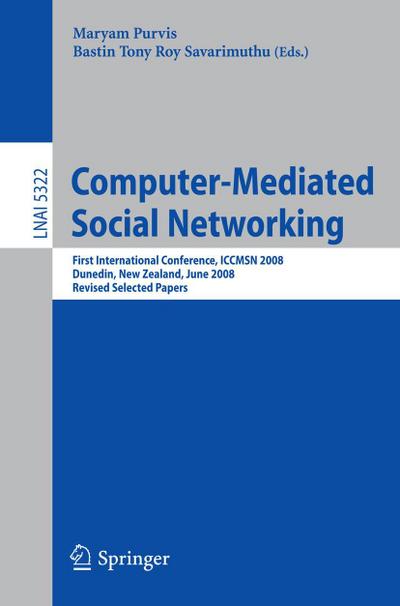 Computer-Mediated Social Networking
First International Conference, ICCMSN 2008, Dunedin, New Zealand, June 11-13, 2009, Revised Selected Papers
Virtual Environments and Second Life.- Designing Physical and Virtual Communities.- Virtual Experience: Observations on Second Life.- Second Life: The Future of Social Networking?.- Building Content in Second Life - Issues Facing Content Creators and Residents.- A Review of Linden Scripting Language and Its Role in Second Life.- Knowledge Networks and Learning in Social Networks.- Embedding Professional Knowledge: The 'Middle Layer' in an Online Community Ecosystem.- Fostering Sociability in Learning Networks through Ad-Hoc Transient Communities.- Inter-organisational Knowledge Transfer and Computer Mediated Social Networking.- SME Knowledge Transfer through Social Networking: Leveraging Storytelling for Improved Communication.- Computer-Mediated Social Networking for Mentoring of Health Professionals.- Applications and Integration of Social Networking Systems.- The Use of Digital Photo Frames as Situated Messaging Appliances.- Awareness Information for Collaborative Information Gathering in Social Bookmarking Service.- Towards the Integration of Social Media with Traditional Information Systems.- Data in Social Network Analysis.- Social Concepts Associated with Social Networking.- Self-organization in Simulated Social Networks.- A Social Networking Approach to F/OSS Quality Assessment.- Eliciting Expectations for Monitoring Social Interactions.- Conference Summary.- Computer-Mediated Social Networking - An Executive Summary of the Conference and the Future Research Directions.
This volume constitutes the revised selected papers of the First International Conference, ICCMSN 2008, held in Dunedin, New Zealand, in June 2009. The 19 revised papers presented were carefully reviewed and selected from a total of 34 submissions. The papers are organized in topical sections on virtual environments and second life; knowledge networks and learning in social networks; applications and integration of social networking systems as well as social concepts associated with social networking.
Zu diesem Artikel ist noch keine Rezension vorhanden.
Helfen sie anderen Besuchern und verfassen Sie selbst eine Rezension.
Autor: Maryam Purvis
ISBN-13 :: 9783642022753
ISBN: 3642022758
Erscheinungsjahr: 25.05.2009
Verlag: Springer Berlin Heidelberg
Gewicht: 336g
Seiten: 212
Sprache: Englisch
Auflage 2009
Sonstiges: Taschenbuch, 235x159x15 mm
Mehr von

Weitere Artikel von