Autor:
Michael D. Moberly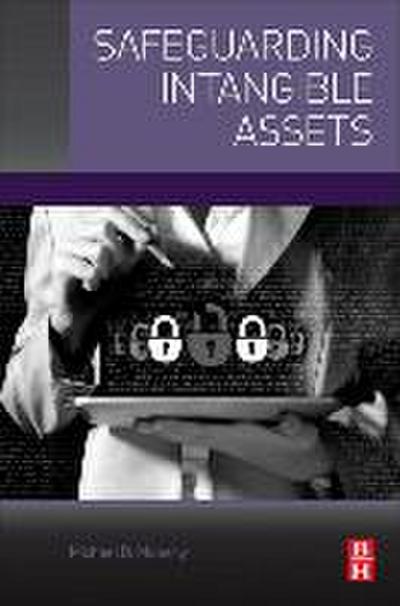 Safeguarding Intangible Assets
Butterworth-Heinemann
Chapter 1: Intangible Assets

Chapter 2: Managing Intangible Assets

Chapter 3: Business Transaction Due Diligence

Chapter 4: New Dimensions for Company Management

Chapter 5: Company Culture

Chapter 6: Company Reputation Risk and Its Management

Chapter 7: Distinguishing Intellectual Property and Intangible Assets

Chapter 8: Intangible Asset Training

Chapter 9: Measuring Performance of Intangible Assets

Chapter 10: Insider Risks and Threats to Intangible Assets

Chapter 11: Intangible Asset Strategist and Risk Specialist

Chapter 12: Intangible Assets in 2014 and Beyond: Where Businesses Must Be!
Safeguarding Intangible Assets provides strategies for preserving and enhancing a company's intangible assets to increase its profitability, competitiveness, and sustainability. Intangible assets such as patents, trademarks, copyrights, methodologies, and brand typically account for 80 percent of an organization's value and revenue. There are many forces making it more and more difficult to protect these assets, and securing them is a complex issue often overlooked by security and risk managers. Many security managers do not have adequate policies or procedures in place to protect these assets from compromise, infringement, and theft. Safeguarding Intangible Assets provides managers with the tools necessary for protecting these assets through effective and consistent oversight designed to preserve their control, use, and ownership. The book offers strategies for various types of business transactions, such as mergers and acquisitions, corporate-university R&D alliances, new product launches, early stage firms, and university-based spin-offs.

Offers step-by-step guidelines and best practices for establishing and maintaining an intangible asset protection program
Provides intangible asset risk management strategies that preserve the company's value, revenue, and competitive advantages
Shows how to collaboratively build a company culture that anticipates and recognizes intangible asset risks in everyday transactions and operations
Strengthens the interface with other departments' security practices, including IT, management, legal, accounting, finance, and risk management
Autor: Michael D. Moberly
Moberly, Michael D.Michael Moberly is president and founder of Knowledge Protection Strategies, a security firm specializing in intangible assets and intellectual property. He has more than 25 years of experience teaching, researching, and consulting on protecting proprietary information and other intangible assets.

Michael is the chair of the Global Development and Outreach Committee for the Intangible Asset Finance Society, and also chairs the Information Asset Protection Council for ASIS International. He has done expert commentary for CNN, CNBC, and NPR.
Zu diesem Artikel ist noch keine Rezension vorhanden.
Helfen sie anderen Besuchern und verfassen Sie selbst eine Rezension.
Autor: Michael D. Moberly
ISBN-13 :: 9780128005163
ISBN: 0128005165
Erscheinungsjahr: 12.09.2014
Verlag: Elsevier LTD, Oxford
Gewicht: 327g
Seiten: 167
Sprache: Englisch
Sonstiges: Taschenbuch, 231x151x15 mm
Mehr von

Weitere Artikel von
Mehr zum Thema